Facebook: 4 security tips that you may not know
There is no question that Facebook is the only social network that likes updates so much. If you are confused about its latest modifications, you should definitely dedicate some time on this tutorial. Here we will reveal our top 5 tips for Facebook security.
First of all, set up your Login Notifications and get ability to know about unauthorized access to your account:
For making Facebook warn you about the attempt to access your account from unknown device, click on the arrow that is on the top right of the page and go to 'Settings':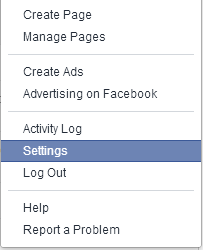 Now look at the top left site and choose 'Security' → 'Login Notifications' → 'Edit'. After that you should see such screen: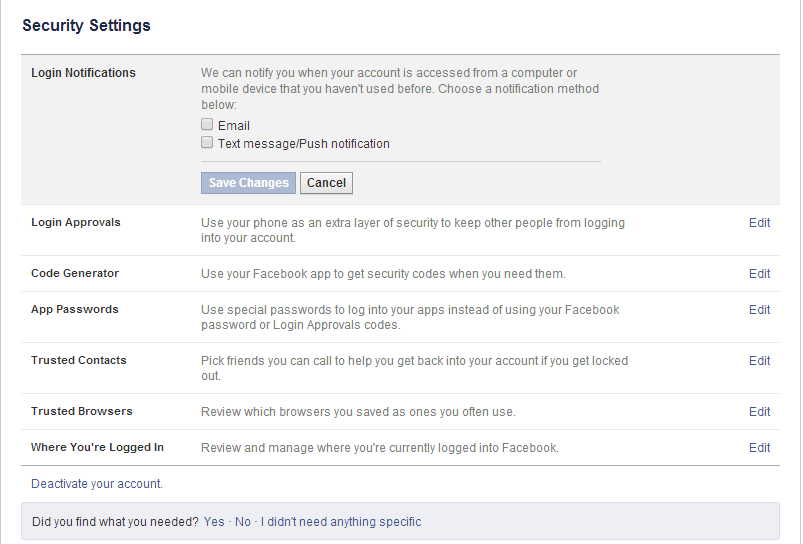 Now choose a notification method (you can choose to receive an email or text message).  Click 'Save Changes' to complete this task.
Secondly, turn on Login Approvals:
Login Approvals is a specific option that can also be used for avoiding unwanted access to Facebook account. This option can easily prevent an access from unknown browser, so why not to use it? For turning it on, follow these steps: Click on the arrow on the top right of the page and go to 'Settings". Now choose 'Security' → 'Login Approvals' → 'Edit':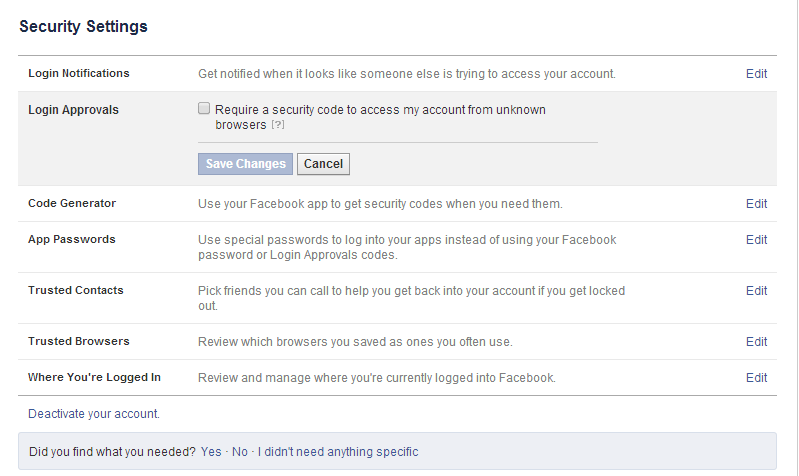 Here, choose 'Require a security code to access my account from unknown browsers' and click on 'Save Changes'. Note that after making these changes you will have to enter a code every time you decide to login from a new device. However, if you like to clear your browser's history or use incognito browsing, you may be asked to enter a code every time you log in. Think about that.
Thirdly, select who can discover you with a help of your email address and/or telephone number:
Believe us, choosing who can find you with a help of your email address or telephone number is really important. For that, you should go to 'Settings'  → 'Privacy'. Now you should see 'Privacy Settings and Tools' screen: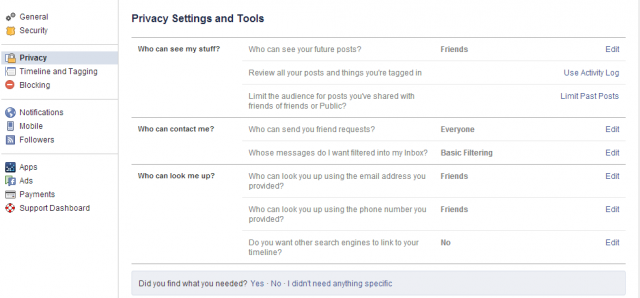 Now look at 'Who can look me up?' section and click 'Edit'  on each of options to decide who exactly, friends, friends of friends or everyone (not recommended) will have ability to find you using your telephone number or mail.
Finally, decide who can see your posts and who can contact you:
Click on lock icon that is on the top right side of the page. You should see a dropdown menu with questions 'Who can see my stuff' and 'Who can contact me'. Decide you can see your future posts: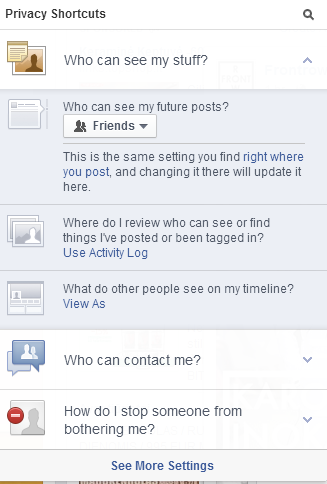 We don't recommend choosing 'Public' if you want to avoid privacy and other issues. Choose 'Friends' or 'More options" in order to increase the security of your posts. For 'Who can contact me' we recommend choosing 'Strict Filtering' for giving your friends the opportunity to send you a message: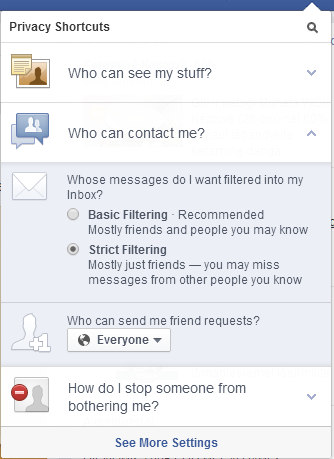 Messages from other people will be sent to your 'Other" folder. You can find in 'Messages' section. Here you can also choose who can send you Friend requests.