FBI advises to stay away from the Internet virus impersonating it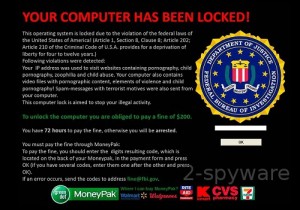 When Mary from Atlanta has seen a huge alert on her computer's screen, she thought the only thing – she has a deal with the Federal Bureau of Investigation. She claims that she truly believed the fact that FBI has locked out her because of illegal PC activity and now she has to make the payment of a $200 fee to remove the lock. However, that's just an FBI virus that massively infects computers and demands the money. According to security experts, it has been on a clear rise in the recent few months and not getting to stop in the near future.
Experts claim that this virus can be easily picked up when surfing the Internet because it is planted on random websites. It can be a sports or entertainment site that has been unnoticeably hacked and left with some infected advertisements blinking on it. Once you click on such pop-up ad, you download a trojan horse on your computer that locks the whole system and places all functions behind its fake FBI warning message. While we have seen several versions of this virus (FBI Moneypak virus, FBI Green Dot Moneypak Virus, FBI Virus Black Screent), they all use the same threatening message, which claims that the user will get into jail because he has been found violating the Federal Law. Additionally, this message asks to make a payment of $200 and have the PC unlocked.
According to Steve Emmett, the FBI's representative in the Atlanta office, this threat is a clear scam. He highly recommends NOT to pay the fine because this is a clear way to lose your money. Besides, after a small research it can be said that this doesn't help to remove the lock. Security experts claim that FBI virus is one of the most difficult cyber infections that are spread in the world right now.
If you have also been infected by FBI virus and can't find a way how to remove this infection from your computer, we recommend reading  FBI virus removal guide on 2spyware.