What is 10134noz5a-viru93b5.exe? Should I remove it?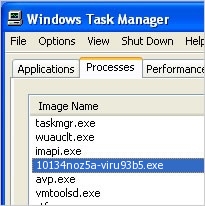 10134noz5a-viru93b5.exe is a malicious file, which is related to APcDefender virus. No matter that the name of this program offers an idea that it was designed for defending computers and eliminating viruses from them, that's not true. In reality, this program seeks to make people believe that their computers are heavily infected. After scaring its victims, it then offers its fake licensed version. If you don't want to lose your money, you should ignore APcDefender ads and remove this program from the system with all its files.
As soon as 10134noz5a-viru93b5.exe is installed on the system, it is used to start a parasite or launch some of its components. Once executed, this file becomes responsible for the parasite's payload and becomes a significant part of a dangerous threat. However, just like any other malicious executable, it can also work on its own and initiate its own malicious activities. If you noticed 10134noz5a-viru93b5.exe running in your system, you are highly advised to scan it with reputable anti-spyware.
For that we recommend you using RegCure Pro.
verdict - status of the file:
dangerous file
Advice:
If your computer seems sluggish, or you are suffering from unwanted advertisements and redirects to unknown websites, we highly recommend you to scan it with reputable anti-spyware program. Do some FREE scan tests and check the system for unwanted applications that might be responsible for these problems.
About the author