What is add.exe? Should I remove it?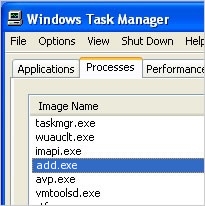 add.exe is an executable file, which has bad intentions. In most of the cases, its presence on the system means that it is infected with Personal Anti Malware. When inside and active, this program seeks to scare its victim into purchasing its fake licensed version. That's why it displays continuous pop-up notifications that report about various viruses. If you want to get rid of Personal Anti Malware and its ads, you should definitely remove this program with all its malicious components.
When Personal Anti Malware infects PC, it drops add.exe. The primary purpose of this file is to start a parasite or launch some of its components. Once executed, add.exe file starts acting as a significant part of a dangerous threat and initiates such malicious activities as installation of other viruses, modifications of the system and other harmful actions. It remains active as long as Personal Anti Malware is present in the system, so you should waste no time and remove this rogue. For eliminating add.exe, we highly recommend using RegCure Pro.
verdict - status of the file:
dangerous file
Advice:
If your computer seems sluggish, or you are suffering from unwanted advertisements and redirects to unknown websites, we highly recommend you to scan it with reputable anti-spyware program. Do some FREE scan tests and check the system for unwanted applications that might be responsible for these problems.
About the author