What is AGRSMMSG.exe? Should I remove it?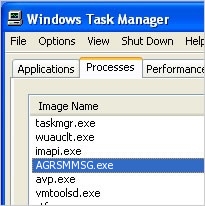 AGRSMMSG.exe is a legitimate file, which is also known as a SoftModem Assistant from Agere Systems. It is always installed alongside Agere modems, so if you discovered this file without installing such and similar devices on your computer, it might be malicious. This file is usually located in C:\Windows\ subfolder and takes about 88,350 bytes of computer's memory. It starts automatically on system's startup and runs in background. AGRSMMSG.exe is not considered the main or core system file, but we don't recommend terminating it because this may cause malfunction of your modem and other specific software.
DANGER!
Cyber criminals, who are developing all sorts of viruses and trojans, are trying to make them look as genuine as possible. For seeking this aim, they name their malwares using the names of real and legitimate processes'. If you noticed that the AGRSMMSG.exe file is running on your computer, the first thing you should do is to check its location. If it's not the C:\Windows\ folder, you should waste no time and scan your system with reliable anti-malware tool. For checking the trustworthiness of AGRSMMSG.exe we recommend using RegCure Pro.
verdict - status of the file:
diagnosis required
Advice:
If your computer seems sluggish, or you are suffering from unwanted advertisements and redirects to unknown websites, we highly recommend you to scan it with reputable anti-spyware program. Do some FREE scan tests and check the system for unwanted applications that might be responsible for these problems.
About the author
Removal guides in other languages