What is blackice.exe? Should I remove it?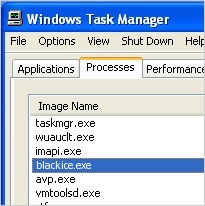 blackice.exe is the non-Windows process which is related to the BlackICE MFC Application. This process can typically be found in the subfolder of "C:\Program Files", in the local C drive. Blackice.exe file triggers the calling of the host of DLLs, Exes and other fundamental process for the BlackICE MFC Application. If you have installed this application, you should be capapble to see an icon next to the clock in the Windows Task Bar. If you use BlackICE application, you shouldn't terminate blackice.exe process because it will lead this application to malfunction.
DANGER!
Though technical security rating of the blackice.exe is only 20% dangerous, there are malware programs that use legitimate processes to hide their egzistence on the PC. So, check the location of this process and run a full system scan with reputable anti-malware program if you thing your blackice.exe process is malicious one.
verdict - status of the file:
diagnosis required
Advice:
If your computer seems sluggish, or you are suffering from unwanted advertisements and redirects to unknown websites, we highly recommend you to scan it with reputable anti-spyware program. Do some FREE scan tests and check the system for unwanted applications that might be responsible for these problems.
About the author