What is bronstab.exe? Should I remove it?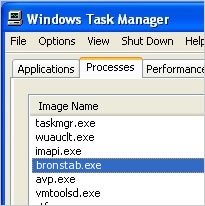 bronstab.exe is a malicious file, which belongs to W32.Rontokbro.D@mm Worm. This cyber threat is mostly spread using e-mail messages that present themselves as important notifications from reputable companies. As soon as user is tricked into downloading a malicious attachment that can also be found in a message, this worm infects the system. Once it starts running, it starts tracking its victim and gathers various data. As a result, W32.Rontokbro.D@mm Worm can steal your personal information, such as passwords and loggins, banking data, etc.
As soon as W32.Rontokbro.D@mm Worm infects the system, it installs bronstab.exe file. Typically, this executable file helps for this worm fulfil its malicious activities: it can be used for launching its components, running a destructive payload, updating it or deleting some of its files. Even if the bronstab.exe file does nothing suspicious, its presence indicates that your computer is infected with a particular threat, so please do NOT let this file stay on your system.
In order to remove bronstab.exe, we recommend using RegCure Pro.
verdict - status of the file:
dangerous file
Advice:
If your computer seems sluggish, or you are suffering from unwanted advertisements and redirects to unknown websites, we highly recommend you to scan it with reputable anti-spyware program. Do some FREE scan tests and check the system for unwanted applications that might be responsible for these problems.
About the author