What is BtnHnd.exe? Should I remove it?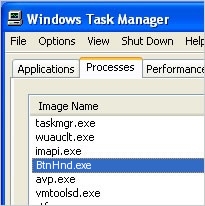 BtnHnd.exe is a legitimate Windows process which is installed together with Fujitsu Button Driver Component, also known as Fujitsu lifebook, program. The known size of this file is 61,440 bytes and it can be found in a "C:\Program Files" subfolder, usually in C:\Program Files\Fujitsu\BtnHnd\. This file has no visible window and it is loaded together with every Windows reboot. btnhnd.exe is a safe file and it is not considered to pose any harm to the system.
In order to uninstall it, click on "Fujitsu Button Driver Component" in Windows Control Panel (category: Software or Programs). However, it doesn't take much of your system resources, so you can leave this program running.
verdict - status of the file:
safe file
Advice:
If your computer seems sluggish, or you are suffering from unwanted advertisements and redirects to unknown websites, we highly recommend you to scan it with reputable anti-spyware program. Do some FREE scan tests and check the system for unwanted applications that might be responsible for these problems.
About the author