What is cpqset.exe? Should I remove it?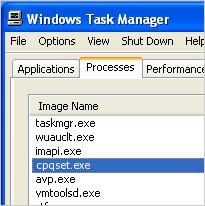 cpqset.exe is a legitimate process, which can also be called Hewlett Packard Configuration Module. This executable can be found running only in Hewlett Packard laptops. Otherwise, it might be related to malware. In most of the cases, cpqset.exe is responsible for the configuration of multimedia devices and can be used for making changes of various settings. If you want to avoid problems related to Hewlett Packard Configuration Module, you shouldn't terminate this process. However, it's not an essential system process, so you can terminate it if you think that it is not required for your notebook.
DANGER!
There are lots of malicious programs that have been using the names of legitimate files for hiding their own presence on the system. Remember, any malware can be named anything, so cpqset.exe can also be used for masking malicious activity of the virus. For avoiding unwanted consequences, such as the loss of your personal information and similar, you should double check this file and make sure that it is not related to malware. For that we recommend using RegCure Pro.
verdict - status of the file:
diagnosis required
Advice:
If your computer seems sluggish, or you are suffering from unwanted advertisements and redirects to unknown websites, we highly recommend you to scan it with reputable anti-spyware program. Do some FREE scan tests and check the system for unwanted applications that might be responsible for these problems.
About the author