What is ctxfihlp.exe? Should I remove it?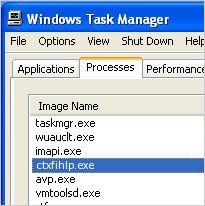 ctxfihlp.exe is a legitimate process, which is installed as a part of Creative Technology audio devices. This non-system file provides additional support for the company's sound cards, so it shouldn't be terminated if it doesn't cause problems and errors. However, if you don't use these audio devices on your machine, you can terminate ctxfihlp.exe because it may consume lots of system's resources. ctxfihlp.exe can be found in C:\Windows\System32 folder and it starts automatically every time you reboot your PC.
DANGER!
There are many viruses on the Internet that are set to use the same processes' names as legitimate applications. Of course, this is done for trying to prevent their removal. If you find ctxfihlp.exe process, which is NOT located in the C:\Windows\System32, you should run a full system scan immediately.
verdict - status of the file:
diagnosis required
Advice:
If your computer seems sluggish, or you are suffering from unwanted advertisements and redirects to unknown websites, we highly recommend you to scan it with reputable anti-spyware program. Do some FREE scan tests and check the system for unwanted applications that might be responsible for these problems.
About the author