What is DPAgnt.exe? Should I remove it?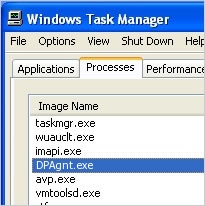 DPAgnt.exe (can also be found as DPPRAgnt Module) is a legitimate and trustworthy file, which belongs to Windows security products. It can be found in a C:\Program Files subfolder and shouldn't be terminated if you don't want to initiate problems in your computer's work. However, this is not a core Windows file and not a critical system's component, so it can be safely terminated if you feel that you don't need it. Some users claim that it causes system's slow downs, but that should be because your registry has suffered fragmentation and accumulated invalid entries.
DANGER!
The name 'DPAgnt.exe' may be used by virus creators to hide the pretense of their viruses and postpone their removal. If you find this file NOT in the 'C:\Program Files' subfolder, you should scan your machine with updated anti-spyware and remove malicious entries from the system.
verdict - status of the file:
diagnosis required
Advice:
If your computer seems sluggish, or you are suffering from unwanted advertisements and redirects to unknown websites, we highly recommend you to scan it with reputable anti-spyware program. Do some FREE scan tests and check the system for unwanted applications that might be responsible for these problems.
About the author