What is Dump.exe? Should I remove it?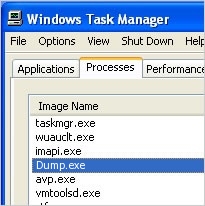 Dump.exe is a legitimate executable file, which is also known as a Windows XP fault logging program. This file is responsible for collecting information about serious system errors and their details. After saving them to the text file, it then sends this information to Microsoft. So, while Dumprep.exe is a non-essential system process, you shouldn't terminate it.
DANGER!
There are lots of viruses that use names of legitimate files for trying to hide their own presence on the system. The primary purpose of such files is to start a parasite or launch some of its components. Once executed, Dump.exe file can be used for performing harmful actions. It can be set to update a virus, download its malicious components and other activities. If you think that Dump.exe is used for these activities, you should check it with RegCure Pro and get rid of this file.
verdict - status of the file:
diagnosis required
Advice:
If your computer seems sluggish, or you are suffering from unwanted advertisements and redirects to unknown websites, we highly recommend you to scan it with reputable anti-spyware program. Do some FREE scan tests and check the system for unwanted applications that might be responsible for these problems.
About the author