What is hdashcut.exe? Should I remove it?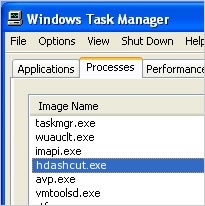 hdashcut.exe is a legitimate file, that belongs to Microsoft. This file can also be called as High Definition Audio Property Page Shortcut and is related to Realtek audio card. If you don't want to find problems with sounds, you shouldn't terminate it. However, it's not an essential system's process, so if you believe that this file initiates problems on your computer, you can terminate it. hdashcut.exe is typically located in C:\Windows\System32 folder and is launched as soon as Windows is started.
DANGER!
On rare occasions, the appearance of hdashcut.exe file on your computer may reveal the fact that it is infected with malware. That's because there are hundreds of viruses that have been created using the names of legitimate files for hiding their presence on computer. If that is the case, hdashcut.exe can be used for launching malicious components, making dangerous configurations and other dangerous activities. That's why we highly recommend you to check this file with RegCure Pro and make sure that it's harmless.
verdict - status of the file:
diagnosis required
Advice:
If your computer seems sluggish, or you are suffering from unwanted advertisements and redirects to unknown websites, we highly recommend you to scan it with reputable anti-spyware program. Do some FREE scan tests and check the system for unwanted applications that might be responsible for these problems.
About the author