What is iktsrv.exe? Should I remove it?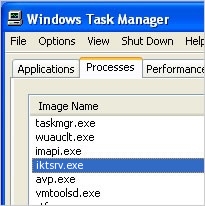 iktsrv.exe is a legitimate process, which is also known as National Instruments Part of Logos. It is related to National Instruments Logos (also known as NI Logos) that belongs to National Instruments, Inc. If you are using this application, it is not recommended that you terminate lktsrv.exe. Otherwise, you may notice various issues that are related to this program. In most of the cases, lktsrv.exe can be found in C:\Windows\System32 folder. If you decided that this file is initiating problems on your computer, you should remove National Instruments Logos with a help of these steps: Click 'Control Panel' -> 'Add/Remove programs' and select 'NI Logos'. Click 'Uninstall" to complete this removal.
DANGER!
Any malware can be named anything. That means that lktsrv.exe can also be used by virus. This is mostly done for hiding viruses and helping them avoid their elimination. For checking the trustworthiness of lktsrv.exe, you should check it with RegCure Pro. This is especially recommended if you noticed that this file causes system's slow downs and similar issues.
verdict - status of the file:
diagnosis required
Advice:
If your computer seems sluggish, or you are suffering from unwanted advertisements and redirects to unknown websites, we highly recommend you to scan it with reputable anti-spyware program. Do some FREE scan tests and check the system for unwanted applications that might be responsible for these problems.
About the author