What is ioctlsvc.exe? Should I remove it?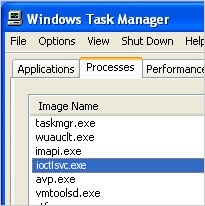 ioctlsvc.exe is a process which is associated with IoctlSvc Application made by Prolific Technology Inc. It's a PLFlash DeviceIoControl Service. While this process is located in the %PROGRAM_FILES% subfolder, it is not a Windows system file because it originates from the software user installs by his own. Typically, the usual size of this process is from 81.920 to 87.344 bytes. Ioctlsvc.exe is safe process and should be left running if you use PLFlash DeviceIoControl Service in your PC routine.
Despite using very little memory, PLFlash DeviceIoControl Service has been reported to have no serious impact on the PC performance. If you decided to uninstall this program, go Contol Panel → Add/Remove programs -> Nero 8 or Nero 8 trial.
verdict - status of the file:
safe file
Advice:
If your computer seems sluggish, or you are suffering from unwanted advertisements and redirects to unknown websites, we highly recommend you to scan it with reputable anti-spyware program. Do some FREE scan tests and check the system for unwanted applications that might be responsible for these problems.
About the author