What is iviRegMgr.exe? Should I remove it?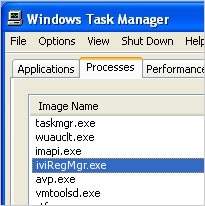 iviregmgr.exe (also known as RegMgr Module) is an executable file of IviRegMgr Module. It can also be found after installing the InterVideo Registration Manager for WinDVD and InterVideo products. It can be found in a subfolder of "C:\Program Files\Common Files". Iviregmgr.exe is a digitally signed file, so it is considered as safe. However, it's not a core Windows file, so you can terminate it if you want to. In order to remove iviregmgr.exe from computer, you should uninstall IviRegMgr Module.
DANGER!
Any malware can be named anything, so iviregmgr.exe may also be used by hackers to hide their own viruses! If you noticed that this executable consumes lots of your system's resources, you should check its trustworthiness with a reliable application. In this case we recommend using RegCure Pro.
verdict - status of the file:
diagnosis required
Advice:
If your computer seems sluggish, or you are suffering from unwanted advertisements and redirects to unknown websites, we highly recommend you to scan it with reputable anti-spyware program. Do some FREE scan tests and check the system for unwanted applications that might be responsible for these problems.
About the author
Removal guides in other languages