What is netscv.exe? Should I remove it?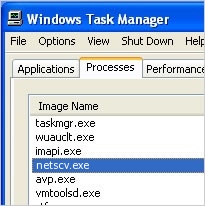 netscv.exe is a malicious executable file that is responsible for launching viruses, loading their main components and running a destructive payload. In most of the cases, it is installed and used by such cyber threats as Lecna.d, W32/Tilebot-IF worm and IRC backdoor trojan. These viruses are especially dangerous because they can be easily set to steal personal users' information, infect system with other viruses and initiate other problems.
When installed, netscv.exe starts acting as it should be. In most of the cases, this file is takes a significant part in controlling the virus. However, it can also function as a stand-alone threat and initiate its own dangerous activities. That's why we highly recommend removing this file from the system immediately after detection. For that we recommend using RegCure Pro.
Please note that netscv.exe file may also be a fully legitimate part of the operating system. That's why you should examine this file before eliminating it from your computer.
verdict - status of the file:
dangerous file
Advice:
If your computer seems sluggish, or you are suffering from unwanted advertisements and redirects to unknown websites, we highly recommend you to scan it with reputable anti-spyware program. Do some FREE scan tests and check the system for unwanted applications that might be responsible for these problems.
About the author