What is openvpn.exe? Should I remove it?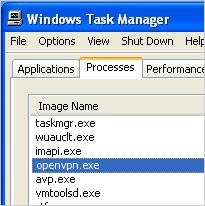 openvpn.exe is a legitimate process, which belongs to the software that is known as OpenVPN. It is an open source software, which helps to create secure point-to-point or site-to-site connections. Other program that uses openvpn.exe process is Hotspot Shield. It is a free tool and service that lets people connect to the Internet via Virtual Private Network (VPN). If you use any of these softwares/services, you shouldn't think about terminating openvpn.exe. However, it is not an essential process that has to be found on every computer, so if you feel that you don't need it, you can safely remove openvpn.exe and Hotspot Shield or OpenVPN from the system. For that you should go to Add/Remove programs.
DANGER!
There are hundreds of parasites that use files with unsuspicious names for hiding themselves from anti-virus. openvpn.exe can also be involved to malicious activities, so you should carefully check this file before leaving it on the system. If it is dangerous files, it may be used for such activities as installation of other parasites or their components, system's slow downs and data theft. If you want to check the trustworthiness of openvpn.exe file, we recommend using RegCure Pro.
verdict - status of the file:
diagnosis required
Advice:
If your computer seems sluggish, or you are suffering from unwanted advertisements and redirects to unknown websites, we highly recommend you to scan it with reputable anti-spyware program. Do some FREE scan tests and check the system for unwanted applications that might be responsible for these problems.
About the author