What is pmuninst.exe? Should I remove it?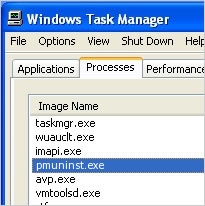 pmuninst.exe is a legitimate executable file, which belongs to Primax Mouse. One of the most important purpose of this file is to start a program or launch some of its components. Once executed, pmuninst.exe runs a process that is responsible for program's payload. If you don't want to run into problems that are related to Primax Mouse functionality, you shouldn't terminate pmuninst.exe. However, it's not an essential system's process, so if you feel that it is causing problems, you can get rid of this file.
DANGER!
pmuninst.exe, just like any other file, may be involved to malicious activity. That's because there are lots of malware creators that use names of legitimate files for hiding their own viruses. So, if you noticed two pmuninst.exe files or the only variant of this file without having no idea about Primax Mouse, you should double check this file. For checking this file properly, we recommend using RegCure Pro.
verdict - status of the file:
diagnosis required
Advice:
If your computer seems sluggish, or you are suffering from unwanted advertisements and redirects to unknown websites, we highly recommend you to scan it with reputable anti-spyware program. Do some FREE scan tests and check the system for unwanted applications that might be responsible for these problems.
About the author