What is qmc.exe? Should I remove it?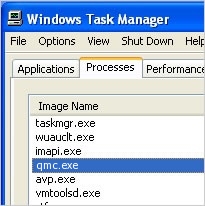 qmc.exe is a legitimate process, which belongs to QuickMonth Calendar. It is a freeware program, which displays a small calendar on Windows desktop whenever the mouse hovers over the clock in the system tray. If you think that this application is useful, you shouldn't think about terminating qmc.exe. However, if you think that it's useless, you can find qmc.exe in "C:\Program Files" folder. It's not an essential system's process, so you can terminate it without damaging it. In order to get rid of QuickMonth Calendar, click on the Control Panel -> Add/Remove programs. Here, look for program's entry, select it and click Uninstall.
DANGER!
Any malware can be named anything, so qmc.exe may also be involved to malicious activity and be used by viruses to perform their malicious tasks! Remember, if you noticed that qmc.exe is causing problems, such as slowing down the system, showing annoying ads and initiating other inconveniences, you should check the trustworthiness of this file with a help of RegCure Pro.
verdict - status of the file:
diagnosis required
Advice:
If your computer seems sluggish, or you are suffering from unwanted advertisements and redirects to unknown websites, we highly recommend you to scan it with reputable anti-spyware program. Do some FREE scan tests and check the system for unwanted applications that might be responsible for these problems.
About the author