What is reportingservicesservice.exe? Should I remove it?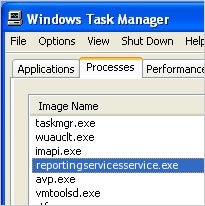 reportingservicesservice.exe is a legitimate process, which belongs to Microsoft SQL Server application. It is a completely harmless process that is responsible for reporting errors that are associated with this program. If you want to know about the programs that are associated with Microsoft SQL Server, we highly recommend NOT terminating reportingservicesservice.exe. However, if you think that this process is initiating problems on your computer or you decided not to use Microsoft SQL Server, you can easily terminate reportingservicesservice.exe. Otherwise, it might be just wasting of your system's resources.
DANGER!
There are lots of executables that have been used by hackers for hiding malicious programs and their activities. Keep in mind that any malware can be named anything, so there is no surprise why scammers started using names of legitimate files. If you noticed that reportingservicesservice.exe is slowing your computer and initiating other issues, it might be malicious. For checking its trustworthiness, we highly recommend using RegCure Pro.
verdict - status of the file:
diagnosis required
Advice:
If your computer seems sluggish, or you are suffering from unwanted advertisements and redirects to unknown websites, we highly recommend you to scan it with reputable anti-spyware program. Do some FREE scan tests and check the system for unwanted applications that might be responsible for these problems.
About the author