What is s1.exe? Should I remove it?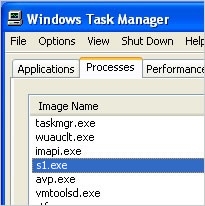 s1.exe is a malicious executable file, which is related to a long list of trojans and cyber worms. These viruses are especially dangerous because they can be easily used for stealing personal information from the system. In addition to that, they can also be set to infect it with additional viruses, start slowing down its speed and initiate other problems. That's why we highly recommend eliminating s1.exe. If you found this file, you should run a full system scan with reputable anti-spyware for eliminating all threats that are related to this malicious process.
When installed on computer, s1.exe is mostly used for starting a virus or its malicious components. However, it may also be set for running a destructive payload. Even if s1.exe does nothing suspicious, its presence indicates that your computer is infected with a particular threat, such as Caiijing or other.
Before you remove s1.exe from the system, take into account that sometimes s1.exe may actually be a useful part of your PC system. That's why you should examine this file. For that we recommend using RegCure Pro.
verdict - status of the file:
dangerous file
Advice:
If your computer seems sluggish, or you are suffering from unwanted advertisements and redirects to unknown websites, we highly recommend you to scan it with reputable anti-spyware program. Do some FREE scan tests and check the system for unwanted applications that might be responsible for these problems.
About the author