What is SAService.exe? Should I remove it?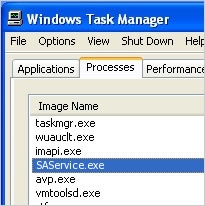 SAService.exe (also known as SAService Application) is one of the main executables of the McAfee SiteAdvisor. It can be found in a subfolder of "C:\Program Files" and is considered safe. However, this file may also be related to SAService Application, SiteAdvisor Service, StillSecure SAService and NAC Agent applications. If you want to have these programs working for you without a problem, you shouldn't terminate SAService.exe.
People report about continuous errors related to this process. In order to get rid of them you should uninstall McAfee Site Advisor. Note that you may need to reboot your computer into SafeMode with Networking for that.
DANGER!
Sometimes hackers use the names of legitimate files in order to hide their own viruses! If you are suspicious, you should check the trustworthiness of SAService.exe and make sure that it's not related to malicious programs. For that we recommend using RegCure Pro.
verdict - status of the file:
diagnosis required
Advice:
If your computer seems sluggish, or you are suffering from unwanted advertisements and redirects to unknown websites, we highly recommend you to scan it with reputable anti-spyware program. Do some FREE scan tests and check the system for unwanted applications that might be responsible for these problems.
About the author
Removal guides in other languages