What is SixEngine.exe? Should I remove it?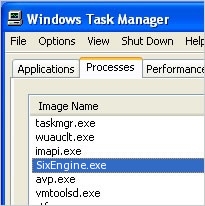 SixEngine.exe is an important system process, which can also be called as ASUS motherboard controller. It manages HD, Fans, VGA Board, Chipset and Memory for power saving. It is typically located in "C:\Program Files" subfolder. You should never think of terminating SixEngine.exe because this may have a negative impact on your PC's performance.
DANGER!
Any malware can be named anything and SixEngine.exe filename is not an exception. When involved to malicious activity, this file may start slowing down your computer, record inputs and steal personally identifiable information in this way. It may also launch or update other viruses and follow other malicious commands received from hackers. If you want to check SixEngine.exe and make sure that it's harmless, you should run RegCure Pro.
verdict - status of the file:
diagnosis required
Advice:
If your computer seems sluggish, or you are suffering from unwanted advertisements and redirects to unknown websites, we highly recommend you to scan it with reputable anti-spyware program. Do some FREE scan tests and check the system for unwanted applications that might be responsible for these problems.
About the author