What is smsss.exe? Should I remove it?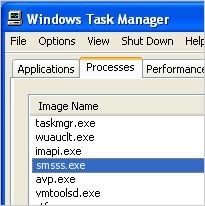 smsss.exe is a dangerous file, which belongs to AGOBOT Worm, W32/Spybot-MP worm and IRC backdoor.
Please, do NOT mix this process with smss.exe, which is also known as Session Manager Subsystem! smss.exe is essential component that is needed for an appropriate PC's functionality. It's responsible for monitoring system's sessions, so its removal can easily lead it to serious problems that are related to its functionality. In fact, there are hundreds of viruses that have been created using similar names to legitimate filenames. This is mostly done for trying to prevent their removal and help them continue their malicious tasks.
According to security experts, the malicious smsss.exe version is mostly used for distributing viruses, launching their main components and similar tasks. It seems that it can hardly work on its own, so if you noticed smsss.exe in your taskbar, you should scan your PC with Reimage and remove malicious programs that are related to this process. Of course, be sure to double check the name of smsss.exe. For that we recommend using RegCure Pro.
verdict - status of the file:
dangerous file
Advice:
If your computer seems sluggish, or you are suffering from unwanted advertisements and redirects to unknown websites, we highly recommend you to scan it with reputable anti-spyware program. Do some FREE scan tests and check the system for unwanted applications that might be responsible for these problems.
About the author