What is StartApp.exe? Should I remove it?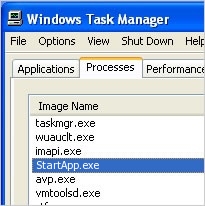 StartApp.exe is a malicious executable file, which belongs to Antivirus Pro rogue anti-spyware. With a help of this process, virus starts its work everytime victim reboots his/hers computer. In addition to that, it gets ability to show its fake alerts that report about different viruses and ask to pay for their removal. Of course, tool that is offered by Antivirus Pro is useless and used only as a method to swindle people's money. Please, do NOT pay for it and do NOT let StartApp.exe run on the system!
StartApp.exe file is typically located in C:\Program Files\AntivirusPro\StartApp.exe folder. Once it is installed on the system, it is used for loading the most of Antivirus Pro components. However, it may also start collecting information about the victim, slow down the system, download other viruses and cause different kinds of errors.
If you noticed anything suspicious, check your computer for StartApp.exe. For that we recommend using RegCure Pro. However, you should also remember that terminating this process won't remove Antivirus Pro from your computer! For that you should also scan your PC with Reimage.
verdict - status of the file:
dangerous file
Advice:
If your computer seems sluggish, or you are suffering from unwanted advertisements and redirects to unknown websites, we highly recommend you to scan it with reputable anti-spyware program. Do some FREE scan tests and check the system for unwanted applications that might be responsible for these problems.
About the author