What is stunnel.exe? Should I remove it?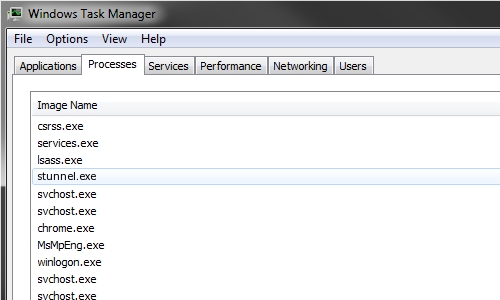 Stunnel.exe is a legitimate executable, which is also known as SecureShell Tunnel or Plesk 8.3 for Microsoft Windows. This file is responsible for non-essential tasks, so you can terminate it if you feel that it is useless or that it has been causing issues on your computer. In most of the cases, stunnel.exe can be found in "C:\Program Files" subfolder. For eliminating this executable, you should click Start -> Control Panel -> Add/Remove Programs. Here, you should find stunnel or Camelsystem Powerpost SSL. Known sizes of this file are 90,112 bytes and 91,648 bytes.
DANGER!
You should take into account that the technical security rating of stunnel.exe is 58% dangerous. That's because there are lots of legitimate programs that use names of legitimate file for trying to hide themselves from PC users. In order to make sure that you are dealing with the legitimate version of this executable, you should check it with RegCure Pro. If this program revealed that Stunnel.exe is malicious, you should run a full system scan with Reimage and remove related malware from the system.
verdict - status of the file:
diagnosis required
Advice:
If your computer seems sluggish, or you are suffering from unwanted advertisements and redirects to unknown websites, we highly recommend you to scan it with reputable anti-spyware program. Do some FREE scan tests and check the system for unwanted applications that might be responsible for these problems.
About the author