What is svchos.exe? Should I remove it?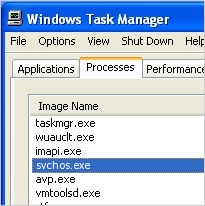 svchos.exe is a malicious executable file that is used by SDBOT.AC WORM. This file can also be related to Ezibot trojan horse, so if you found it running in your system, it means that it's infected. Make sure you scan your PC with reputable anti-spyware after finding this file before it starts its malicious activities, such as data theft, installation of malware, etc.
svchos.exe is mostly used for starting a malicious program, launching its components or running a destructive payload. Even if this file does nothing suspicious, its presence indicates that your computer is infected with a particular threat. Please, do NOT mix its name with svchost.exe that is important part of the system. For examining your svchos.exe and eliminating it from the system, we recommend using RegCure Pro.
verdict - status of the file:
dangerous file
Advice:
If your computer seems sluggish, or you are suffering from unwanted advertisements and redirects to unknown websites, we highly recommend you to scan it with reputable anti-spyware program. Do some FREE scan tests and check the system for unwanted applications that might be responsible for these problems.
About the author