What is swihpwmi.exe? Should I remove it?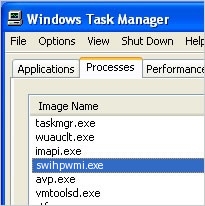 swihpwmi.exe is a legitimate process of Swihpwmi module which belongs to HP Broadband Wireless Modules by Sierra Wireless. This file is located in 'C:\Program Files\HPQ\Shared\Sierra Wireless\Win32\Unicode\' folder and has a size of 292384 bytes. swihpwmi.exe is a Verisign signed file. However, it can be terminated because it is not a core file in Windows system. You can uninstall this file through Add/remove programs list (go Start → Settings → Control panel → Add/Remove Programs).
DANGER!
swihpwmi.exe may also be used by malware programs to hide their activity on your computer. If you have noticed suspicious behavior of this file, note that malware can be named anything and you should check if your tswihpwmi.exe file is legitimate. Otherwise you may lose your usernames, passwords and other loggin details and may even find that this malware has taken full control of your computer. We recommend using Reimage for checking if your swihpwmi.exe is legitimate
verdict - status of the file:
diagnosis required
Advice:
If your computer seems sluggish, or you are suffering from unwanted advertisements and redirects to unknown websites, we highly recommend you to scan it with reputable anti-spyware program. Do some FREE scan tests and check the system for unwanted applications that might be responsible for these problems.
About the author