What is symlcsv1.exe? Should I remove it?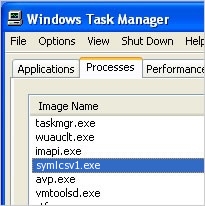 symlcsv1.exe is a legitimate executable file that belongs to Symantec Core Component from Symantec Corporation. In most of the cases, this file is located in Windows Temp folder and takes about 58,760 bytes of PC's memory. symlcsv1.exe is a digitally signed file, but it's not a core Windows system file. Therefore you can terminate this process if you believe that it's consuming too much of your system's memory or causing other problems on your computer.
DANGER!
It has been reported that symlcsv1.exe may also be used by ErrorSweeper and other viruses. That's because of the method that has been used by malware creators for hiding their own viruses in the system. Remember, any virus can be named anything and symlcsv1.exe is not an exception, The malicious its version can be used for launching certain parasite's components or running a destructive payload. Even if the symlcsv1.exe file does nothing suspicious, its presence may indicate that your computer is infected with a particular threat. For examining this file and terminating it, we recommend using RegCure Pro.
verdict - status of the file:
diagnosis required
Advice:
If your computer seems sluggish, or you are suffering from unwanted advertisements and redirects to unknown websites, we highly recommend you to scan it with reputable anti-spyware program. Do some FREE scan tests and check the system for unwanted applications that might be responsible for these problems.
About the author