What is SynTPEnh.exe? Should I remove it?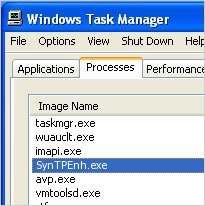 SynTPEnh.exe is a touchpad driver/utility that is commonly found in lots of different notebooks. This process is a legitimate file, which is related to Synaptics touchpads and other Synaptics products. In most of the cases, it is responsible for providing a quick launch to various touchpad features, such as scrolling and similar. SynTPEnh.exe is located in "C:\Program Files\" folder and should never be terminated. In some of the cases, Syntpenh.exe causes an error message in Windows XP. To resolve this issue, click on the LINK and install an updated driver for your Synaptics TouchPad.
DANGER!
Many viruses use the names of legitimate files in order to hide their own presence on the system. SynTPEnh.exe may also be involved into this malicious activity and help viruses initiate malicious tasks in system's background. If you think that this file is malicious, you should check it with RegCure Pro and eliminate it with all its components.
verdict - status of the file:
diagnosis required
Advice:
If your computer seems sluggish, or you are suffering from unwanted advertisements and redirects to unknown websites, we highly recommend you to scan it with reputable anti-spyware program. Do some FREE scan tests and check the system for unwanted applications that might be responsible for these problems.
About the author