What is tintsetp.exe? Should I remove it?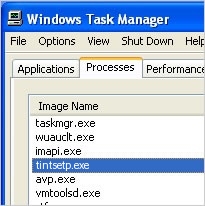 tintsetp.exe is a legitimate process which belongs to Microsoft Language Support (IME) helping for PC users to translate Asian text. As this file is installed together with the software you install on your computer, it is not an essential process, so you can safely stop it without making any damage for your computer's stability. You can find tintsetp.exe located in a subfolder of C:\Windows\System32 and it should take about 455,168 bytes of your PC's memory.
DANGER!
Most of malware programs use legitimate processes to hide their existance on the computer, so tintsetp.exe should be terminated if you think it's causing problems on your machine. In addition, we recommend running a full system scan with anti-malware program if your tintsetp.exe is not located in C:\Windows\System32 subfolder.
verdict - status of the file:
diagnosis required
Advice:
If your computer seems sluggish, or you are suffering from unwanted advertisements and redirects to unknown websites, we highly recommend you to scan it with reputable anti-spyware program. Do some FREE scan tests and check the system for unwanted applications that might be responsible for these problems.
About the author