What is wasetup.exe? Should I remove it?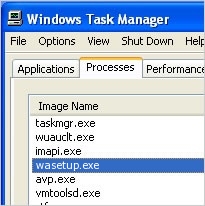 wasetup.exe is a legitimate file, which was created by Microsoft. It was related to the BackOffice Server, which was discontinued in 2001. This server was used in branch operations and for small businesses to run their back office operations. At the moment of writing, BackOffice Server is replaced by Windows Server Essentials.
DANGER!
There are lots of legitimate executable files that have been involved to malicious activity. Any malware can be named anything, so scammers use names of legitimate files for helping them avoid removal. If you noticed wasetup.exe running in your system's background, there might be that this is a malicious file that belongs to virus. It has been installed and used by WistaAntivirus, Packed/Upack, W32/Heuristic-210!Eldorado and other cyber threats. If that is the case, you have to delete wasetup.exe file immediately after detection. Otherwise, it will continue privacy violations and similar issues on your system. For eliminating this file and all related objects, we recommend using RegCure Pro.
verdict - status of the file:
diagnosis required
Advice:
If your computer seems sluggish, or you are suffering from unwanted advertisements and redirects to unknown websites, we highly recommend you to scan it with reputable anti-spyware program. Do some FREE scan tests and check the system for unwanted applications that might be responsible for these problems.
About the author