How to get rid of Aw, Snap! error message?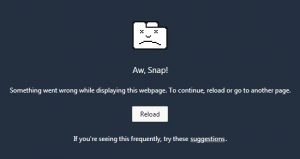 Many people on the Internet report about Aw, Snap! error message. It typically reappears when using Google Chrome web browser and trying to open a certain website, which crashes unexpectedly. People are seeing Aw, Snap! when trying to get into Facebook, Youtube and other popular websites. However, it can also show up when using Google Drive and similar services. Once it shows up, it says something like that:
"Aw, Snap!
Something went wrong while displaying this webpage. To continue, reload or go to another page.
Reload.
If you're seeing this frequently, try these suggestions."
In most of the cases, reloading helps. However, if you are also experiencing continuous website crashes and Aw, Snap! errors in Google Chrome browser, you should read the following tips and try to fix your browser.
1. Download the latest Google Chrome's version.
2. Disable extensions. You should disable them one by one so that you could see what particular extension is causing the problem. For that follow these steps:
Click Chrome menu → Tools → Extensions.
Here, deselect selected extension and disable it.
3. Clear cookies and history on Google Chrome. For that click Wrench icob -> Tools -> Clear Browsing Data.
4. Check your computer for malware. For that you should just scan the system with one of these applications:
1) SpyHunter
2) STOPZilla


March 13th, 2014 at 12:47 am

I want to remove the Reg Clean Pro, how to do it?


March 13th, 2014 at 12:48 am

No comment. just need help


February 9th, 2015 at 1:02 pm

did all that above and get oh snap in normal mode and icognito mode it never did this before but has been doing it quite frequently lately