How to protect computer while shopping online?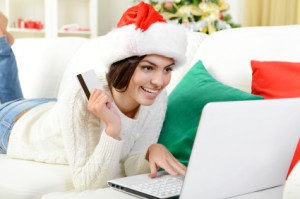 Online shopping is a very convenient thing that allows you to buy things without leaving your home. However, day-by-day hundreds of online shoppers get attacked by viruses, malware and other online threats. That's because most of them don't even realize what does the term 'online security' mean. If you want to make sure that your computer is fully protected against viruses and other online dangers, read the following tips before you start your online shopping:
Make sure you use the latest antivirus version
The first thing you should do before starting your online shopping is to check your anti-virus and anti-malware status. Basically, you need to make sure that your security software is up to date, and, if any updates are available, install them. In fact, this should be applied for all of the software, which can be found on your computer. The easiest way to do that is to automate software updates and they will reach you as soon as they show up.
Always use unique and strong passwords
Before you start shopping online, you need to create an account. Yes, it's always easier to choose a usual password and start adding items to your cart. However, it's not recommended, especially if you are concerned about your online privacy. We highly recommend choosing a newly-created password for each of your accounts. Besides, combining capital letter with lowercase letters, numbers and other symbols will also help you to strengthen your password.
According to security experts, spam and phishing attacks have reached unseen levels. Most likely, that's because people still don't believe that they can be used for stealing their personal data or infecting their computers with malware. In order to avoid spam and phishing, stay away from suspiciously-looking links in emails, tweets, posts, and other kinds of advertisements. If you know the source, contact it and ask about the message personally.
Avoid Wi-Fi hotspots and public computers when making your purchases
If you need to make a purchase on the go, always opt to the 3G network. This is the only way to make sure that your credit card details are safe. In addition, stay away from libraries, airports, coffee shops and other places where the same computers are used by many people. Remember, home is the best place to shop online.
Make sure the website is security enabled
In order to protect your banking details, always look for web addresses with "https://" or "shttp://". It's also a good sign if you see a padlock at the end of the web address.
About the author

December 19th, 2013 at 12:07 pm

[…] important to know how to stay protected to avoid scams, malware and identity theft. A post on the 2-Spyware blog details some of the threats to your security and what you'll need to avoid them when […]


January 5th, 2014 at 3:20 pm

Funny how a "hidden" advertisement is right under that.