Microsoft AntiSpyware Beta tutorial
Table of contents.
Introduction
Installing Microsoft AntiSpyware Beta
Starting Microsoft AntiSpyware Beta for the first time
Using Microsoft AntiSpyware Beta
Using Microsoft AntiSpyware Beta real-time protection
Conclusion
Microsoft AntiSpyware Beta is an advanced spyware remover published by leading software company. Although this product still is in development, it already provides really effective protection from most spyware and malware threats. This guide will help you to reveal full potential of Microsoft AntiSpyware Beta. You will learn how to use this superb piece of software in order to remove spyware, adware and other parasites.
More information about the product can be found in our review.
Currently Microsoft AntiSpyware Beta is free for testing purposes and non-commercial use. However, note that it is still in development and you use it at your own risk. You can get the application from the official Microsoft web site. Version 1.0.615 (July, 2005 build) size is about 7MB, so the download shouldn't take more than a few minutes.
Now you can install the program. Double-click on the downloaded executable file to start the installation. Follow setup instructions, read and accept the license agreement and select installation folder. In the next screen click on the Install button. The setup will copy files and register the program. In the next screen click on the Finish button. Now Microsoft AntiSpyware Beta is installed to your system.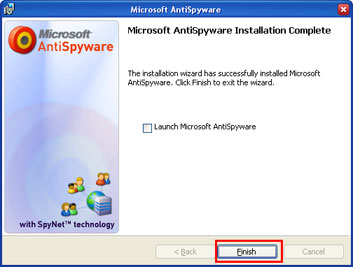 Image 1. Finish the setup
You may select the Launch Microsoft AntiSpyware option. This will start the application immediately after you finish the installation. This step is not required as in the next section you will learn how to manually launch the program.
To start the program you have to double-click on Microsoft AntiSpyware desktop icon or find Microsoft AntiSpyware shortcut in start menu and click on it. On the first run you will see the Setup Assistant welcome screen. This wizard will ask you to complete three simple steps: enable automatic updates, configure real-time protection and join the SpyNet community. Then you will be ready to scan your computer. Click on the Next button to follow Setup Assistant instructions.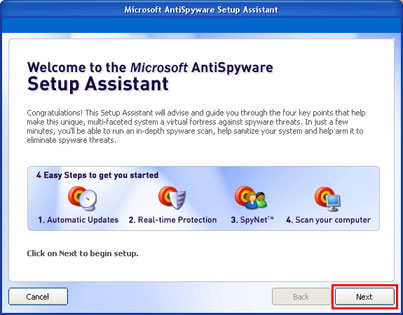 Image 2. Follow Setup Assistant instructions
The wizard will ask you to configure automatic updates. You should enable AutoUpdater, which ensures that the spyware remover is always kept up to date. Select Yes, automatically keep Microsoft AntiSpyware updated (recommended) and click on the Next button. This step is very important, because without latest updates Microsoft AntiSpyware Beta may be unable to detect and remove recent threats.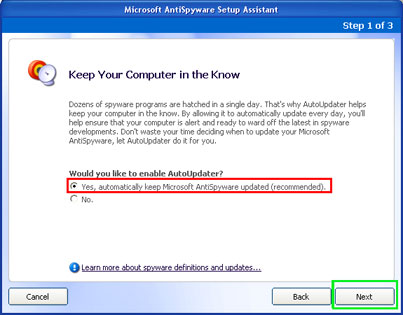 Image 3. Enable automatic updates
On the next step Setup Assistant will ask you to configure real-time protection. Microsoft AntiSpyware Beta offers more than 50 real-time monitors that watch every system component and prevent secret spyware installations, kill running parasites, etc. It is a generally good idea to enable real-time monitoring. Select Yes, keep me secure (recommended) and press the Next button.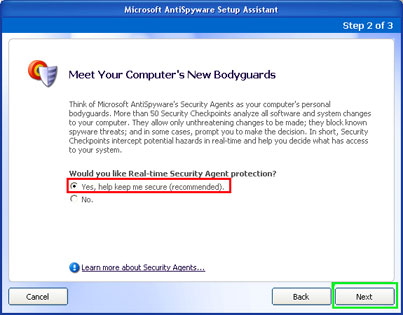 Image 4. Enable real-time protection
In the next screen you will be asked to join SpyNet. The SpyNet community is a network service that connects all computers running Microsoft AntiSpyware Beta into one network, which allows to share information about unknown parasites. This helps to protect SpyNet user systems from most recent risks. You are advised to participate in SpyNet. Select Yes. I want to help fight spyware (recommended) and press the Finish button.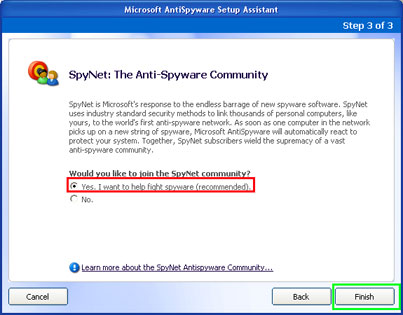 Image 5. Join the SpyNet community
Now you should see last Setup Assistant screen. You will be asked to run quick scan now. This step is not required as in the next section you will learn how to scan your computer. In the Also Recommended! screen part (on Image 6 it is designated by the blue box) you will see that the Run a spyware scan every night at 2 a.m. (you can modify time later) option is checked. It enables scan scheduling. If you do not want to allow Microsoft AntiSpyware Beta to run scheduled scans, you should uncheck this option. Now you should click Run scan later (on Image 6 it is designated by the red box) to start Microsoft AntiSpyware Beta.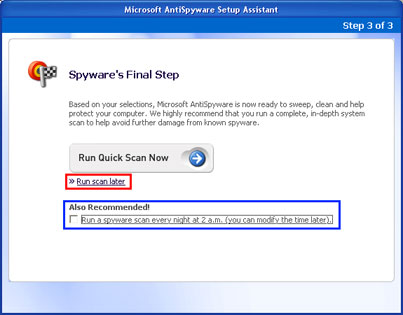 Image 6. Start using the program
Now you should see main Microsoft AntiSpyware screen. On Image 7 it is divided into five sections. The first section designated by the red box is the System Summary. It provides the information about the last system scan, scan schedule, real-time protection state, spyware definitions date and automatic updates. It also acts as a set of shortcuts to essential Microsoft AntiSpyware tools.
In the green box is the Spyware Scan section. It allows to run a system scan and quickly access scan options.
Real-time Protection (it is in the blue box) is a shortcut to real-time agents configuration screen.
In the yellow box you can see the Advanced Tools button. It is a shortcut to system and privacy tools screen.
The area designated by the gray box is the Message Center. Here you can see short information on Microsoft AntiSpyware status.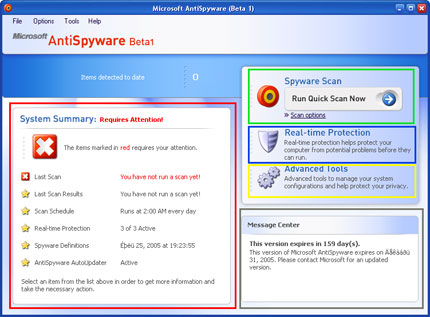 Image 7. Main Microsoft AntiSpyware Beta screen
1. Updating the program
Before using the program you should update it. Otherwise some parasites may remain undetected. Click on the File menu (on Image 8 it is in the red box) and select the Check for updates… option. This will bring the AutoUpdater screen. Microsoft AntiSpyware will automatically download and install recent updates. All you have to do is to press the Close button (in the green box) after updates have been finished. Now the application is up to date and ready to check your computer.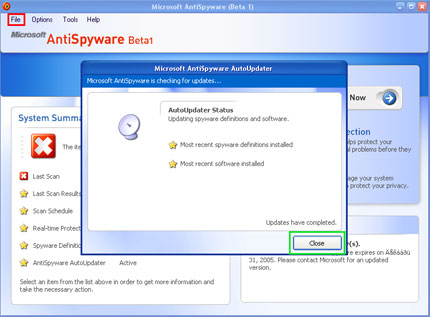 Image 8. Update the program
2. Scanning the system
To perform your first system scan click on the Scan options link, which can be found in the main program screen in the Spyware Scan section. This will open the Spyware Scan screen. Within it you should select the Run a full system scan option (on Image 9 it is in the red box). Make sure that related options (these are in the green box) have checkmarks next to them. Click on the Select link (it is in the blue box). In the appeared window select drives you want to scan. I suggest selecting all local hard disks. Then close the window by pressing the OK button (in the yellow box). Now you are ready to start full system scan. Click Run Scan Now (in the gray box).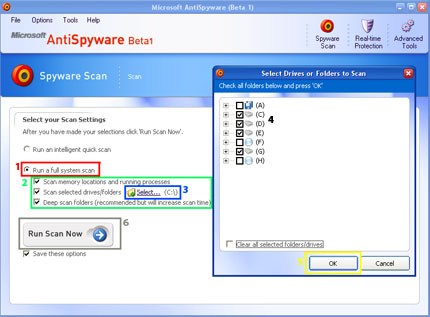 Image 9. Prepare full system scan
Full system scan takes a while, so be patient.
3. Analysing detected objects
After the scan is over the program will display a scan report, which contains the number of detected items, scanned objects and total scan time. Press the View Results button. The report window will close. In the program's main window you should see the list of found parasites. Each item in this list can be expanded. Click on the + icon (on Image 10 it is designated by the blue box) next to an item. You will see the complete list of registry entries, files, processes and other objects related to the parasite. Take a look on the right pane (it is in the red box). In this area Microsoft AntiSpyware provides detailed information about each found threat.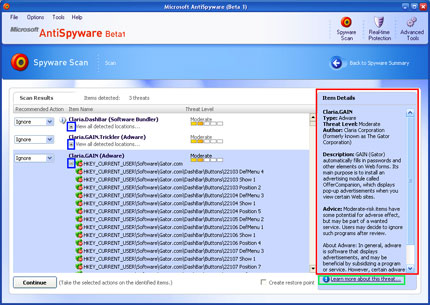 Image 10. Analyse critical objects
To get full details click on the Learn more about this threat… link (on Image 10 it is in the green box). This will open an additional window similar to one shown on Image 11.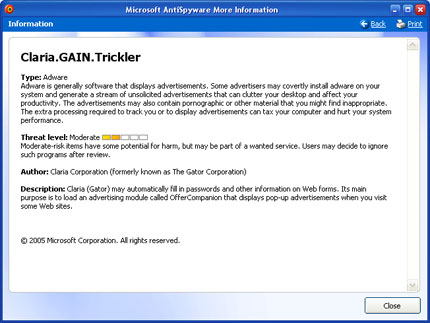 Image 11. Get full details on detected risk
4. Removing found parasites
To remove a parasite click on the drop-down menu (on Image 12 it is designated by the red box) next to it and select the Remove action. Check the Create restore point option (it is in the blue box), it will create the Windows backup (useful in case something goes wrong). Then press Continue (in the green box).
If you think that some items on the list belong to legitimate programs and shouldn't be removed, you can ignore them. To do this, from the drop-down menu select Ignore or Always Ignore. Microsoft AntiSpyware will leave such items in the system.
If you are not sure about some objects, you can backup them before removing. To do this, from the drop-down menu select the Quarantine action. If something goes wrong, you always can restore quarantined objects.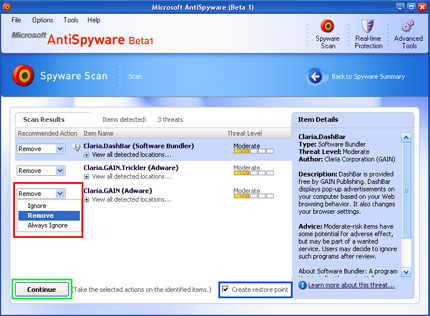 Image 12. Select items you want to remove
Now Microsoft AntiSpyware will ask you for confirmation. In the appeared window press Yes. This will start the removal process.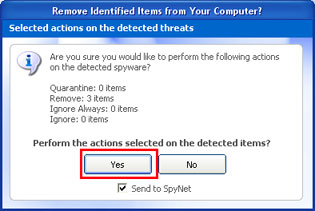 Image 13. Eliminate found threats
The program may need to reboot your computer in order to completely eliminate remaining spyware components on the next Windows startup. A message will be displayed (Image 14). You will have to save your work and click on the Yes button.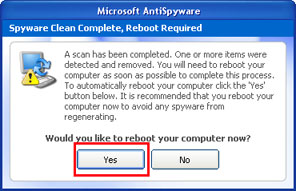 Image 14. Reboot your computer if necessary
5. Managing quarantined objects
Microsoft AntiSpyware Beta maintains the backup of quarantined items. To access the Quarantine click on the Tools menu, select Spyware Scan and then choose the Manage Spyware Quarantine option (on Image 15 it is in the blue box). To remove certain item from the quarantine, place a checkmark next to it and click Permanently remove all checked items (on Image 15 this link is designated by the red box). To restore an item click on the Un-quarantine all checked items link (in the green box). Microsoft AntiSpyware will ask you to confirm the action. If you want to restore or delete an item, you must reply positively by pressing the Yes button.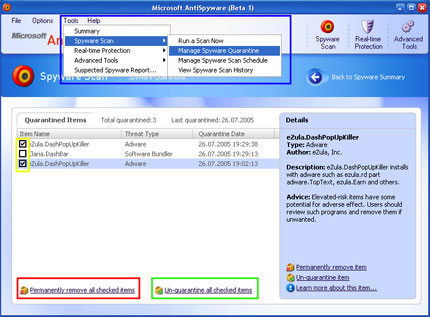 Image 15. Delete or restore selected quarantined objects
1. Configuring real-time protection
Currently Microsoft AntiSpyware Beta offers the Internet agent, system agent and application agent. These agents consist of tiny software monitors called checkpoints that watch certain system components and take immediate actions when spyware attempts to modify essential system settings, disable some services, etc. Each checkpoint can be enabled or turned off independently from the others. To access the Real-time protection screen click on the Shield icon or Real-time protection link (shown on Image 16).


Image 16. Real-time protection icons
To configure certain monitors click on the Internet Agents, System Agents or Application Agents links (designated by the red box). This will open the corresponding agent screen.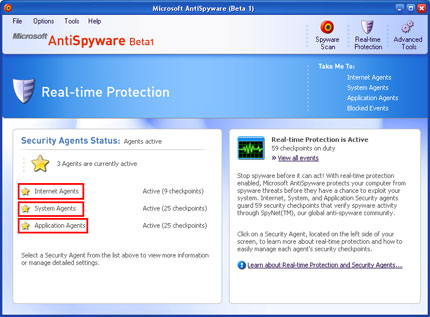 Image 17. Select agents you want to configure
By default all real-time monitors are enabled. You are advised to leave them running. However, if you don't need certain checkpoint, you can disable it. Select the checkpoint you want to disable and carefully read the information about it provided in the right pane (it is in the blue box). Then, if you are really sure, click on the Deactivate checkpoint link (it is in the red box). To activate turned off checkpoint click Activate checkpoint.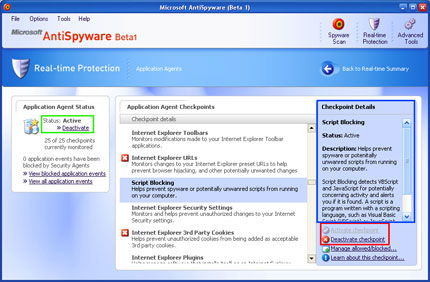 Image 18. Manage agent checkpoints
To disable the agent and all its checkpoints click on the Deactivate link (on Image 18 it is in the green box). Note that you should never disable real-time protection, unless you use another anti-spyware monitor. To activate turned off agent click Activate.
2. Real-time monitors in action
Few examples of real-time monitors activity are provided in this section. It will help you to get the idea how to deal with numerous alerts, notices and warning messages.
a) You have a program you want to install. You double-click on it to start the setup. However, Microsoft AntiSpyware Beta displays the following message: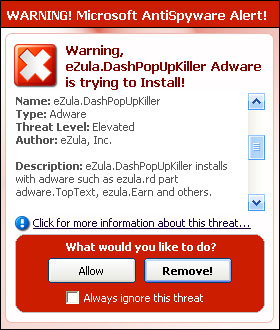 Image 19. Warning message
Recommended actions: do not install the program, it is a parasite! Click the Remove! button to get rid of it.
b) You have installed a program or changed its settings. Microsoft AntiSpyware Beta displays the notice: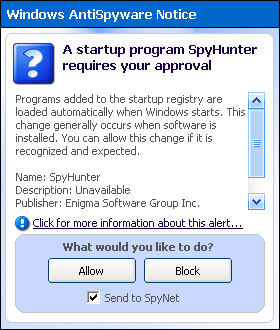 Image 20. Notice message
Recommended actions: if you are sure that the program is fully legitimate, allow it to modify the system by pressing the Allow button. Otherwise click Block.
Microsoft AntiSpyware Beta is a comprehensive anti-spyware solution that includes everything you need to protect your privacy and clean your computer. Even if you do not trust Beta stage products, you definitely should give Microsoft AntiSpyware Beta a try.