Microsoft, last week, released the new version of the most popular web browser in the world. Internet Explorer 7 introduces redesigned interface, tabbed browsing, integrated phishing filter and support for RSS feeds.
Now it's time for Mozilla Foundation – Firefox 2 is officially released. The new version of this secure, powerful, flexible, and yet highly user-friendly browser is available for download. Let's take a quick look at new stuff in Firefox 2.
Interface
Unlike Internet Explorer 7, Firefox 2 didn't get a totally different interface. The look is almost the same as it was in the 1.5 release, except for improved icon theme and enhanced search bar, which now displays a list of suggested search terms. However, there are few nice improvements you will definitely notice.

Tabs are more convenient now. There is a Close button on each tab, so you don't have to aim in order to hit that tiny button in the program's upper right corner. If you have a lot of tabs opened at the same time, use new scrolling arrows to scroll the tab bar. Tab titles remain visible, so you don't have to guess which of the cluttered tabs is page you want to see. Clicking on a new button that has replaced the old Close shows the list of all tabs. Again, this comes useful when you have large amount of web pages opened.
New features
Firefox 2 comes with integrated on-the-fly spell checker always ready to check your spelling, so that you don't submit posts, comments or messages with mistakes. Currently, 28 free dictionaries are available for download. Your native language might not be among them, but we believe that there will be dictionaries for most tongues soon.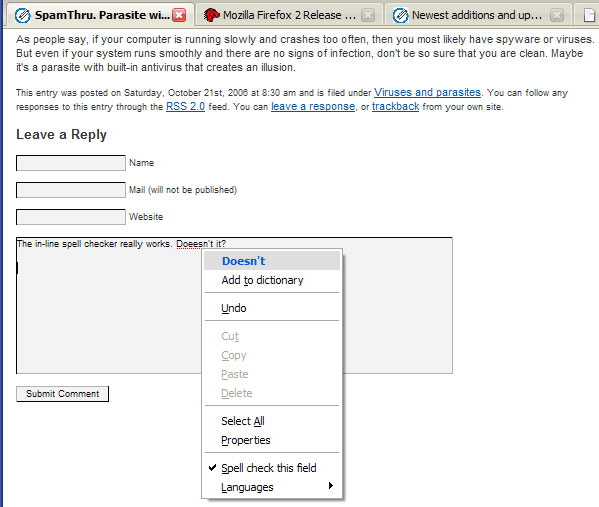 Another new integrated tool is the RSS reader capable of subscribing to news feeds. The web browser now provides support for microsummaries – regularly updated headlines of bookmarked web pages. The Live Titles feature makes your bookmarks dynamic.
Firefox can now restore your last session by opening all the windows and tabs that you forgot to close before installing an update or new extension. The Session Restore feature can also recover lost text typed in forms and resume in-progress downloads. It is especially useful when recovering from a system crash.
Security
One of the most secure web browsers just got safer. Firefox 2 introduces built-in phishing protection similar to one seen in Internet Explorer 7. It's effective, reliable and very easy to use. The phishing filter is turned on by default, so you just cannot forget to enable it. A vivid message alerting of suspected web forgery and suggesting to get out immediately is something that even a novice will notice and understand in time.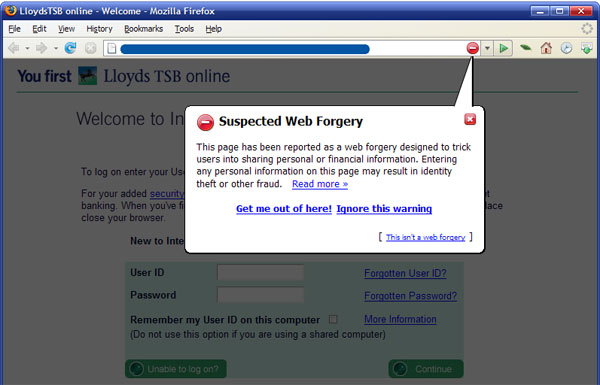 Mozilla Firefox 2 is a great browser. It's not a major update like IE7 to IE6 is, but it's really worth of getting as quick as possible. You will definitely like all the new features and improvements that result in much better usability and browsing experience.
Mozilla Firefox 2 is available for a variety of languages and platforms. Get it while it's hot!