Mozilla Firefox. Customizable, secure, safe from spyware
Firefox probably is the most successful newcomer to the web browsers niche. Started as an open source project in September, 2002 it shortly gained enormous popularity between all kinds of Internet users: 65 millions of downloads is an incredible number! Many IT professionals describe this browser as the best all-around alternative to Microsoft Internet Explorer. Of course, you've heard a lot about Firefox and so-called "browser wars". But let us remind you, why so many people abandon IE and switch to Firefox.
Firefox offers tabbed browsing, customizeable pop-up blocking and integrated RSS feed reader. Nowadays none of these features can surprise an average user. This is just a minimal set of tools that you need everyday. However, the most popular browser Internet Explorer lacks it. The only feature it has is the pop-up blocking, which appeared only in Windows XP Service Pack 2. Visual Firefox appearance can be easily customized using themes. Almost any internal option can be changed via about:config settings. Furthermore, because of Firefox platform-independent design, it runs on a variety of different platforms, including Windows, Mac OS X, Linux and Unix based operating systems. On all these platforms the browser shows excellent stability and good compatibility with Internet standards.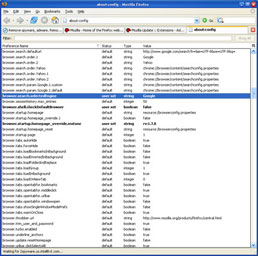 Image 1. Firefox configuration tool allows to completely change browser behavior
The default installation of Firefox is quite limited. It includes only the main tools. However, the situation changes when you install specific extensions. On addons.mozilla.com you'll find plenty of different tools suitable for almost any web-oriented task. Flash, Java and other plug-ins can be obtained from the same site.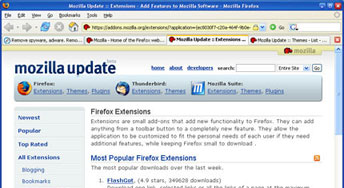 Image 2. Mozilla Update resource contains plenty of Firefox themes, extensions and plug-ins
Security is the key of Firefox popularity. The browser doesn't support ActiveX and Visual Basic scripting, which, although can be quite useful in complex web projects, is exploited by most dangerous spyware, adware, browser hijackers and other harmful parasites. As a result, most malware cannot affect Firefox – it simply doesn't work in it. Firefox is not deeply integrated into the OS as IE is, so its potential security flaws practically cannot cause any serious damage to the system and installed software.
One more reason to switch to Firefox is its price. You do not have to pay for it! Internet Explorer is also free, but the most recent updates are not available for users running older Windows versions. Safe browsing with IE costs. Install Firefox and you will get functional, highly secure and feature-rich browser for free.