Malware makers are actively using social engineering to trick people into downloading and installing malicious software positioned as something useful and irreplaceable. They don't bother writing sophisticated viruses and worms any more. Now it's all about frauds.
You have probably seen hundreds of corrupt spyware removers, bogus registry cleaners and fake video codecs. Some time ago we wrote about rogue web browsers such as YapBrowser and Browsezilla. But that was last summer. Now it's time for a new "product" – NetBrowserPro.
NetBrowserPro is described by its developers as "secure, confidential quick and free" web browser that allows you to surf any porn sites you want without being afraid of catching a virus. They say that their program is based on Internet Explorer, but lacks all the insecure features (supposedly ActiveX and JavaScript support, etc.) that are not necessary to surf porn. According to them, "there is absolutely no gap for the virus."
Don't believe those scumbags! NetBrowserPro is anything but secure and confidential. First of all, once executed, it drops a rootkit on your computer. Secondly, this pest asks you to download something called MovieCommander that is actually fake video codec capable of installing different malware like corrupt spyware removers and related trojans. Furthermore, NetBrowserPro keeps all your bookmarks on its server that is definitely not secure at all.
But the most interesting part starts when you launch your brand new browser. It comes with a start page full of random porn galleries. Clicking on some of them redirects you to pages hosting images that can be described as "teen porn". There is also a possibility that clicking on any of the images might take you to one of numerous malicious sites hosting anything from dangerous exploits to difficult malware.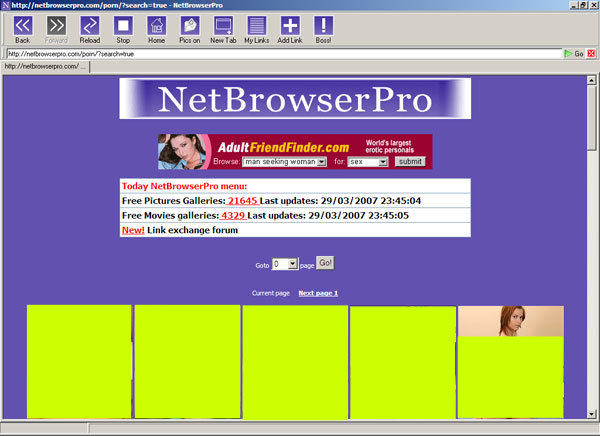 You are in trouble if a browser like this is installed and running on your system. Fortunately, major antiviruses already detect NetBrowserPro and prevent it from being installed.
We have to say once again, DO NOT use bogus web browsers! Such software can be more dangerous than rogue anti-spyware or fake registry cleaners. If you think that something like NetBrowserPro is in your system, consider running virus and spyware scans immediately! Who knows how it will affect your security and privacy tomorrow.