337Games virus. How to remove? (Uninstall guide)
removal by Jake Doevan
-
- Also known as
337Games ads, 337Games redirect
| Type:
Adware
337Games is a potentially unwanted program that may enter your computer behind your back, create a shortcut on your desktop and display irritating advertisements. Usually, these ads may try to redirect you to 337.com website (this adware may also be related to 337-games.com and 337games.net websites). As you can imagine, this website offers numerous free games. This unwanted program may appear on your computer out of nowhere; therefore many of its victims are assuming that 337Games is a virus. There is a lighter term that perfectly describes this dubious application, and that term is 'adware'. Normally, such adwares can barely pose you any threat. However, this trespasser may totally ruin your browsing experience or even violate your privacy. Your online habits may be tracked in order to display targeted advertisements.
How can 337Games virus hijack my computer?
This invader may travel together with various freewares. That is a very common method, which is used in order to transmit adwares. If you want to avoid 337Games redirects and annoying advertisements, you need to avoid downloading unfamiliar free games, applications and toolbars. We can give you a couple of helpful tips. Firstly, always make sure that your desired program is safe enough. Read reviews and comments from people who have already downloaded the program that you are willing to download. Secondly, before the installation has started, read end-user license agreement (EULA) section. Thirdly, 337Games virus may hide as an innocent-looking toolbar or an extension for your browser. Therefore, always opt out of suspicious additions when you get an offer to install one. Although these precautions may seem very simple, sometimes 337Games virus, or a similar unwanted intruder may enter your computer. For this scenario, we recommend following the removal tutorial down below.
How to remove 337Games virus from my computer?
First of all, we recommend not to trust this gaming website. If you register to such questionable website, you may expose your private information to advertisers or even cyber criminals. Moreover, 337Games ads may totally distract you every time when you open your browser. Follow these simple steps and get rid of this pesky intruder.
Remove 337Games from your computer:
1. Click Start → Control Panel → Uninstall a Program.
2. When in the Add/Remove Programs/Uninstall a Program, look for recently installed/unfamiliar applications, such as 337Games, SmartSaver, SaverAddon, SupTab, WebSaver, Shopping-Addon, ValueApps, Lollipop, PriceMeter, Supra Savings, weDownload Manager, Software Updated Version, DP1815, Video Player, Convert Files for Free, BetterSurf, PureLead, Search Assist, Re-Markable, Lollipop, HD-Total-Plus, Safe Saver, Trusted Web, PassShow, LyricsBuddy-1, PureLeads, Media Player 1.1, RRSavings or similar unfamiliar entries.
3. Click 'Uninstall' and then OK to save the changes.
Remove 337Games extension from your browsers (Internet Explorer, Mozilla Firefox, and Google Chrome):
Internet Explorer:
1. Open Internet Explorer, go 'Tools' → 'Manage Add-ons' → 'Toolbars and Extensions'.
2. Here, look for 337Games and similar entries, and click 'uninstall'.
3. Once you remove it, change your start page.
Mozilla Firefox:
1. Open Mozilla Firefox, go 'Tools' → 'Add-ons' → 'Extensions'.
2. Find 337Games and similar entries, and click 'Uninstall'.
3. After that, change the start page.
Google Chrome:
1. Click the Chrome menu button on the Google Chrome browser, select Tools → Extensions.
2. Here, look for 337Games or similar unfamiliar extensions and get rid of them by clicking on the Recycle Bin.
3. Don't forget to change start page.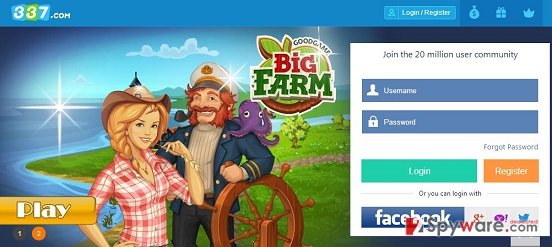 About the author
Removal guides in other languages