360 Safe virus. How to remove? (Uninstall guide)
What is 360 Safe?
360 Safe by Qihoo 360 is promoted as an anti-spyware for Windows and Mac based computers, as well as Android and iPhone devices. It's target – Chinese users; however, people who live in other countries may also use it freely. The reports about this program are very controversial. Some experts claim that it's extremely useful and based on several reliable virus databases. However, security experts view this program from a different perspective and claim that it's more likely to be a rogue anti-spyware or a scareware. It's executable file 60safe.exe (ebb0e69443cf4d7e7bacbddb46a2351a) has been rated 36/44 as being a Trojan. Therefore, we recommend you to run a full system scan with Reimage and get rid of 360 Safe virus as soon as possible if it's already running on your PC. Beware that it's another member of Windows System Suite and Windows Security Suite family of rogues and may initiate various computer and privacy related issues on your computer. This rogue seeks to prevent people from using Internet Explorer mainly; however, it may hijack Google Chrome and Mozilla Firefox as well. Besides, it installs itself on Windows startup and starts initiating misleading redirects and fake scans every time the computer is relaunched. Beware that 360 Safe virus delivers fake scan results and fills them with non-existent computer infections with an intention to scare its victims. Even more, you have to consider privacy-related issues if this rogue hides in your PC. Beware that it uses cookies and may collect not only personally non-identifiable but also sensitive information as well, for instance, users purchase information, name, email address and so on. If you want to prevent yourself from being scammed, make sure that you get rid of 360 Safe rogue anti-spyware as soon as possible.
How can 360 Safe hijack my computer?
360 Safe can be installed manually from its official website. However, many people have reported that they were not allowed to install it before accepting to install 360Safe Browser. Fortunately, most of the users have understood that such tactics is not fair and decided not to install it. Unfortunately, this rogue quite successfully infiltrates people's computers without being noticed. Software created by Qihoo 360, such as 360 Security, 360 Vault, 360 Browser, etc. is distributed bundled with free software. As you probably already known, people can easily end up installing programs, such as AVLab Internet Security, Security Bytes 2015, Du Speed Booster, Driver Update and so on when they do not pay enough attention to the installation of freewares As we have already mentioned, 360 Safe rogue anti-spyware may initiate fake scans, redirects, track users and so on. Another sign indicating that it's inside may be such and similar alerts:
"360Safe.exe cannot be found."
"This program can't start because 360Safe.exe is missing from your computer."
"360Safe.exe is missing."
"There was a problem starting [path]\360Safe.exe. The specified module could not be found."
"Runtime Error. 360Safe.exe pure virtual function call."
"Access Violation File [path]\360Safe.exe"
"Unable to launch the software located at path: [path]\360Safe.exe"
"This application requires the file 360Safe.exe, which was not found on this system."
In order to prevent installing such and similar rogues, you should always select Advanced or Custom installation option for installing freewares and look for various additional components with an intention to opt out of them. By the way, don't forget the fact that suspicious programs may be installed via fake update alerts, spam and other deceptive methods. Therefore, be very careful while surfing the net and make sure that you keep your guard up.
How to remove 360 Safe virus?
360 Safe is a rogue anti-spyware that may try to convince you that your PC is seriously infected and may try to steal sensitive information about you. That's why you should take needed actions as soon as you notice its fake alerts on your computer's screen. For that, you should select AUTOMATIC REMOVAL OPTION that requires just downloading a reputable anti-spyware, updating it and running a full system scan. If you need a detailed guide explaining how to do that, read this guide. When trying to remove 360 Safe, our recommended programs are Reimage and Malwarebytes Malwarebytes because they can easily detect every hidden component that belongs to this and other cyber threats.
ATTENTION! 360 Safe may try to block installation and activity of legitimate security programs, including SpyHunter and StopZilla. If you can't download or launch any them, try these options:
1. USING SYSTEM RESTORE TO DISABLE VIRUS:
Click Start -> All Programs -> Accessories -> System Tools -> System Restore.
Select Restore my computer to an earlier time and click Next.
Choose the date and the specific restore point that you want and click Next.
Wait until your PC reboots and click OK on the Restoration Complete window.
Now download Reimage and run a full system scan after updating it.
If you are using Windows 8, then follow these steps:
Go to the Windows 8 Start Screen and type restore point in the Search section.
Now click on Settings -> Create a restore point.
When in System Protection tab, select System Restore.
Click Next button to see your restore points and left click on the entry you need.
Now select Scan for affected programs -> Close -> Next -> Finish.
Once your PC reboots, download Reimage and run a full system scan after updating it
2. REBOOTING TO SAFE MODE WITH NETWORKING:
Restart your computer
As soon as your computer becomes active, start pressing the F8 key continuously until you see Advanced Boot Options screen.
Here, select Safe Mode with Networking (for that, use the arrow keys) and then hit Enter.
Login as the same user as you were in normal Windows mode
Now right click on IE or other browser's icon and select Run As or Run As administrator. Enter your Administrator account password (if needed).
Enter this link to your address bar: https://www.2-spyware.com/download/hunter.exe and download a program on your desktop. Launch it to remove malicious files.
3. CREATING GUEST ACCOUNT FOR SCANNING COMPUTER:
If you have another user (guest) account, you can try to run a full system scan from it. You just need to log into it and download Reimage for a full system scan. You can activate your guest account with a help of these steps:
Click Start -> Settings -> Control Panel and select User Accounts.
After a new window shows up, click on Guest -> Turn On Guest Account.
Now wait until computer reboots and you see Windows log on screen
Select Guest account for downloading our recommended anti-spyware.
4. USING ANOTHER PC FOR DOWNLOADING ANTI-SPYWARE:
Take another computer that is not infected by this virus and download Reimage or Malwarebytes Malwarebytes on it.
After completing the procedure, transfer this anti-malware to the CD/DVD, external drive, or USB flash drive.
In the meanwhile, kill malicious processes on your infected computer. For that you can use this tutorial.
Stick the device you used for transferring anti-spyware program to your infected PC and launch it.
5. BLOCKING 360 SAFE BEFORE A SCAN:
Let 360 Safe start its work and finish its fake system scan.
Click on Allow unprotected and close the warning message.
Open File Explorer (click Start -> Documents) and enter %AppData% in the location bar. Click enter.
Rename guard-agas or similar entry.
Reboot your machine and enter this link to your address bar: https://www.2-spyware.com/download/hunter.exe
Download SpyHunter and remove malicious files that belong to 360 Safe.
Alternate Software
We have tested Plumbytes Anti-Malware's efficiency in removing 360 Safe virus (2015-02-23)
We have tested Malwarebytes's efficiency in removing 360 Safe virus (2015-02-23)
We have tested Hitman Pro's efficiency in removing 360 Safe virus (2015-02-23)
We have tested Malwarebytes's efficiency in removing 360 Safe virus (2015-02-23)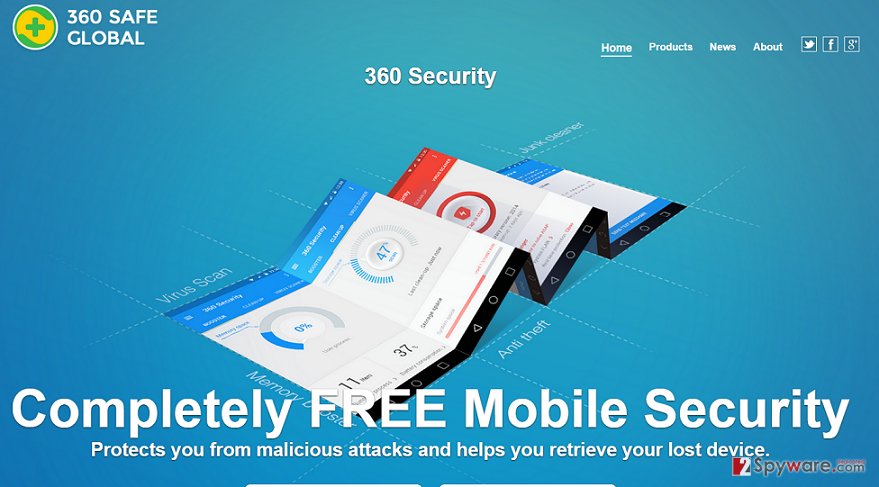 About the author