Abu Dhabi Police GHQ virus. How to remove? (Uninstall guide)
Abu Dhabi Police GHQ virus is a dangerous ransomware threat, which should never be trusted and left on your computer. The main reason why you have to remove this virus from the system is that it tends to block all programs and files, and disables Internet connection once it gets inside. So, it can be said that computer becomes useless when it gets infected with Abu Dhabi Police GHQ virus. However, it should be clear that it was invented for a different reason – ransomware also shows a huge message that covers the entire computer's screen and claims that the user is noticed for his illegal Internet activity. Typically, it reports about the use of copyrighted content and the distribution of spam/malware. Additionally, it asks to pay a fine of 100$ (500 AED or 100 Euro) using cashU service. Please, never follow this hoax because you will lose your money! We highly recommend ignoring this alert and eliminating ransomware from the system.
HOW CAN I GET INFECTED WITH Abu Dhabi Police GHQ virus?
When distributing Abu Dhabi Police GHQ virus, cyber criminals rely on the classic ways of distribution. Typically, they use freeware, shareware, compromised software and illegal or hacked websites. As soon as ransomware virus comes inside the PC, it blocks it and starts showing a message claiming about various illegal user's activities. Just like other Ukash parasites, it names the use of pornography, distribution of copyrighted content and similar 'crimes'. Be aware that its purpose is to trick unsuspecting PC users that this alert belongs to the Police of United Arab Emirates. However, such institutions have never been locking computers and using prepayment systems for collecting their fines. If you don't want to give your money for scammers, you should remove Abu Dhabi Police GHQ virus from the system ASAP.
HOW TO REMOVE Abu Dhabi Police GHQ virus?
If infected with this ransomware, you won't be capable to remove it at once. First of all, you have to 'unlock' your computer and get ability to get on the Internet. Some victims report that setting your computer's date to the previous one helps to remove the lock. However, many viruses mutate for preventing their elimination from the system, so use these methods if setting the date to the previous doesn't help for you
* Flash drive method:
1. Take another machine and use it to download Reimage or other reputable anti-malware program.
2. Update the program and put into the USB drive or simple CD.
3. In the meanwhile, reboot your infected machine to Safe Mode with command prompt and stick USB drive in it.
4. Reboot computer infected with Abu Dhabi Police GHQ virus once more and run a full system scan.
* Users infected with Abu Dhabi Police GHQ virus are allowed to access other accounts on their Windows systems. If one of such accounts has administrator rights, you should be capable to launch anti-malware program.
* Try to deny the Flash to make your ransomware stop function as intended. In order to disable the Flash, go to Macromedia support and select 'Deny': http://www.macromedia.com/support/documentation/en/flashplayer/help/help09.html. After doing that, run a full system scan with anti-malware program.
* Manual Abu Dhabi Police GHQ virus removal:
Reboot you infected PC to 'Safe mode with command prompt' to disable Abu Dhabi Police GHQ virus (this should be working with all versions of this threat)
Run Regedit
Search for WinLogon Entries and write down all the files that are not explorer.exe or blank. Replace them with explorer.exe.
Search the registry for these files you have written down and delete the registry keys referencing the files.
Reboot and run a full system scan with updated Reimage to remove remaining virus files.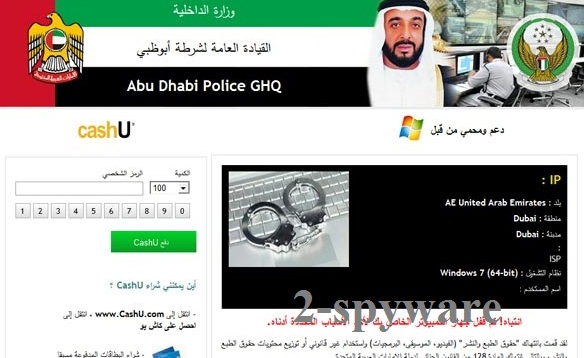 Abu Dhabi Police GHQ virus manual removal:
Kill processes:
[random].exe
Delete files:
[random].exe
About the author