Advanced Defender. How to remove? (Uninstall guide)
Advanced Defender is a rogue anti-spyware program that is promoted and installed through the use of malicious software, usually Trojans. This fake security program is a clone of Personal Protector and Personal Guard 2009 scareware. Once installed, it will run a fake system scan and display a list of infections or system threats just to scare you into thinking that your computer is seriously infected. The scan results are false, don't worry too much about that. However, don't remove any files reported by this bogus software as you may actually remove legitimate Windows files. There is also a list of predetermined files that will be reported as computer threats:
C:\WINDOWS\certofsystem.exe
C:\WINDOWS\explorers.exe
C:\WINDOWS\microsoftdefend.dll
C:\WINDOWS\regp.exe
C:\WINDOWS\spoos.exe
C:\WINDOWS\system32\winscent.exe
The above files were created on your computer by the rogue program and don't pose any risk to your security. You could remove those files manually, but it would be better if you read the removal guide below about how to remove Advanced Defender from your computer either manually for free or with an automatic removal tool.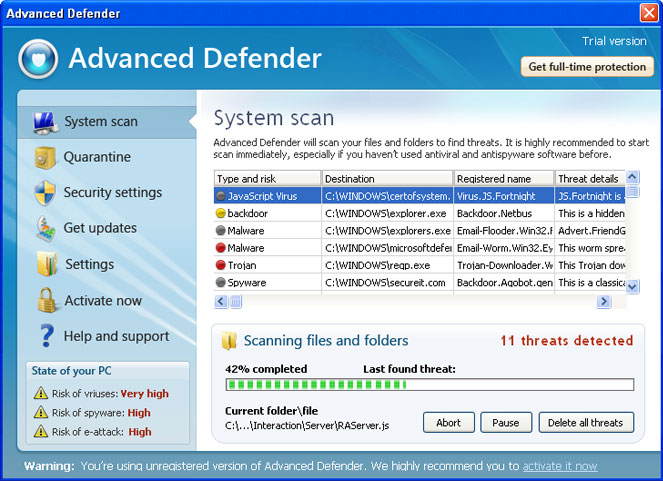 [Figure 1. Advanced Defender graphical user interface]
While running, Advanced Defender will do more very annoying things to trick you into purchasing the program and to protect itself from being removed. First of all, it will block almost all executable files on your computer. Of course, it will block anti-virus software in the first place. Then it will claim that your computer is under attack or that there is a Trojan virus that may steal sensitive data and send it to a remote PC. Non of these statements are true. These fake notifications and warnings just like the false scan results were made to scare you.
Cmd.exe is infected with worm Lsas.Blaster.Keyloger. This worm is trying to send your credit card details using to connect to remote host.
Attention! System detected a potential hazard on your computer that may infect executable files. Your private information and PC safety is at risk.
To get rid of unwanted spyware and keep your computer safe you need to update your Current security software.
Click Yes to download official intrusion detection system (IDS software)
Without any doubts, Advanced Defender is a scam. Most importantly, don't buy this bogus software. If you have already done that, please contact your credit card company and dispute the charges. Then use the removal guide below to remove Advanced Defender from your computer for free. Note, that this virus may block automatic removal tool. In such case, please reboot your computer in Safe Mode with Networking and re-download it.
Advanced Defender manual removal:
Kill processes:
advanceddefender.exe
regp.exe
secureit.com
spoos.exe
winscent.exe
certofsystem.exe
explorers.exe
Delete registry values:
HKEY_LOCAL_MACHINESOFTWAREAdvanced Defender
HKEY_LOCAL_MACHINESOFTWAREMicrosoftWindowsCurrentVersionUninstallAdvanced Defender
HKEY_CURRENT_USERSoftwareMicrosoftWindowsCurrentVersionPoliciesSystem "DisableTaskMgr" = "1"
HKEY_LOCAL_MACHINESOFTWAREMicrosoftWindowsCurrentVersionRun "advanceddefender"
Unregister DLLs:
microsoftdefend.dll
Delete files:
track.wid
Advanced Defender.lnk
advanceddefender.exe
base.wdb
baseadd.wdb
conf.wcf
quarant.wdb
certofsystem.exe
explorers.exe
microsoftdefend.dll
regp.exe
secureit.com
spoos.exe
winscent.exe
Delete directories:
C:Program FilesAdvanced Defender
C:Documents and SettingsAll UsersMicrosoft PData
%UserProfile%Start MenuProgramsAdvanced Defender
About the author