Advanced PC Shield 2012. How to remove? (Uninstall guide)
Advanced PC Shield 2012 is a corrupted antivirus, rogue anti-spyware, that is distributed by using illegal and offensive techniques, like faked flash updates, infected webpages, spam emails and other. Typically, this rogue installs using various vulnerabilities in your browser, OS or just because one uses no anti-virus programs. Of course, Advanced PC Shield 2012 won't get through reputable anti-virus and anti-spyware programs, so make sure your PC is protected as it should be. In addition, you must remember that this threat is extremely dangerous, as it asks for user to pay for invented viruses removal. In most cases, viruses detected by Advanced PC Shield 2012 are harmless system files dropped by the same malware after its secret intrussion.
Advanced PC Shield 2012 will act just like any other program released by scammers – it will start scanning your system for viruses and then will agressively offer to purchase the licensed version which is told to be the only one capable to eliminate them. Additionally, Advanced PC Shield 2012 will bomb you with popups and alerts. These alerts will claim about serious infections as well, however they can be ignored as everything this malware says.To make you think your PC is infected, it will report:
Application has been attacked with the virus!
Advanced PC Shield 2012 detect "GMER" corrupted by "Backdoor.Destroy"
Click here for immediately security scan.
Severe system damage!
Spyware and viruses detected in the background. Sensitive system components under attack! Data loss, identity theft and system corruption are possible.
Act now, click here for a free security scan.
Tracking software found!
Your PC activity is being monitor. Possible spyware infection. Your data security may be compromised. Sensitive data can be stolen.
Prevent damage now by completing a security scan.
Virus infection!
System security was fount to be compromised. Your computer is now infected. Attention, irreversible changes may occur. Private data may be stolen.
Click here now for an instant anti-virus scan.
When trying to launch your anti-spyware and remove Advanced PC Shield, it will block legitimate programs from being executed. Besides, yuor anti-virus will also be said to be "infected" with various kinds of malware. Keep in mind that this is just another scam to force users to try to fix PC by using full version of this scareware. No detection of Advanced PC Shield 2012 is real, and you should not pay for it under any circumstances. Make sure you remove Advanced PC Shield 2012 immediately after you see the first sights of this infection.
To uninstall Advanced PC Shield 2012 follow our guide.
1. Download TDSS Killer and Process explorer on safe PC.
2. Move them to infected PC and launch them just after system reboots (process explorer first).
3. Kill Advanced PC Shield 2012 processes.
4. Scan with TDSS Killer to remove Zeroaccess or TDSS rootkit from the system that comes preinstalled with Advanced PC Shield 2012
5. Scan PC with reputable anti-malware programs and delete Advanced PC Shield 2012 files.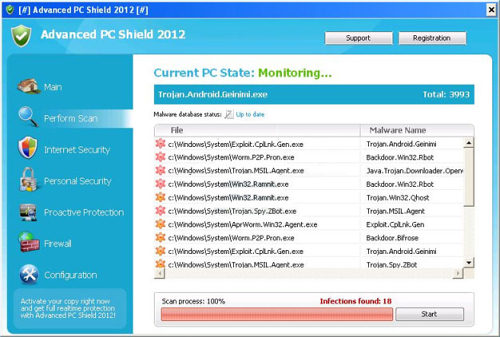 Advanced PC Shield 2012 manual removal:
Kill processes:
[random].exe
Delete registry values:
HKEY_LOCAL_MACHINESYSTEMControlSet001EnumRootLEGACY_1ADA0
HKEY_LOCAL_MACHINESYSTEMControlSet001EnumRootLEGACY_1ADA0000
HKEY_LOCAL_MACHINESYSTEMControlSet001EnumRootLEGACY_1ADA0000Control
HKEY_LOCAL_MACHINESYSTEMControlSet001EnumRootLEGACY_2F1E76264F11EC54
HKEY_LOCAL_MACHINESYSTEMControlSet001EnumRootLEGACY_2F1E76264F11EC54000
HKEY_LOCAL_MACHINESYSTEMControlSet001EnumRootLEGACY_2F1E76264F11EC54000Control
HKEY_LOCAL_MACHINESYSTEMControlSet001Services2f1e76264f11ec54
HKEY_LOCAL_MACHINESYSTEMCurrentControlSetEnumRootLEGACY_1ADA0
HKEY_LOCAL_MACHINESYSTEMCurrentControlSetEnumRootLEGACY_1ADA0000
HKEY_LOCAL_MACHINESYSTEMCurrentControlSetEnumRootLEGACY_1ADA0000Control
HKEY_LOCAL_MACHINESYSTEMCurrentControlSetEnumRootLEGACY_2F1E76264F11EC54
HKEY_LOCAL_MACHINESYSTEMCurrentControlSetEnumRootLEGACY_2F1E76264F11EC54000
HKEY_LOCAL_MACHINESYSTEMCurrentControlSetEnumRootLEGACY_2F1E76264F11EC54000Control
HKEY_LOCAL_MACHINESYSTEMCurrentControlSetServices2f1e76264f11ec54
HKEY_CURRENT_USERSoftwareMicrosoftWindowsCurrentVersionInternet SettingsZoneMapRangesRange1
Delete files:
%Documents and Settings%[UserName]Application Data2b16d9f2146443b3.exe
%Windows%System32Drivers2f1e76264f11ec54.sys (rootkit driver related to Zerroacces or TDSS).
%Documents and Settings%[UserName]Local SettingsTempVGX1.tmp
%Documents and Settings%[UserName]Local SettingsTempVGX2.tmp
%Documents and Settings%[UserName]Local SettingsTempVGX3.tmp
%Documents and Settings%[UserName]Local SettingsTempVGX4.tmp
%Documents and Settings%[UserName]Local SettingsTempVGX5.tmp
%Documents and Settings%[UserName]Local SettingsTempVGX6.tmp
%Documents and Settings%[UserName]Local SettingsTempVGX7.tmp
%Documents and Settings%[UserName]Local SettingsTempVGX8.tmp
About the author