Adware Away. How to remove? (Uninstall guide)
Adware Away is a rogue anti-spyware application and also a fake diagnostic tool for Windows operating system. It is advertised as reliable tool with abilities to remove various infections including adware, spyware, browser hijackers, Trojans, and worms. However, the truth is that Adware Away is secretly installed trough the use of trojan viruses when browsing malicious websites and has nothing to do with computer protection. The main aim of this rogue is to trick money from inexperienced users.
Once installed and active, Adware Away runs counterfeit PC scan and floods the system with pop-up windows stating that user's computer is seriously infected. Of course, those infections were made up in order to scare the user. Normally, the user has to ignore such disinformation and remove Adware Away from the system without any doubts. Otherwise, this parasite may cause even more damage to the system. The best option is to remove Adware Away manually as shown below.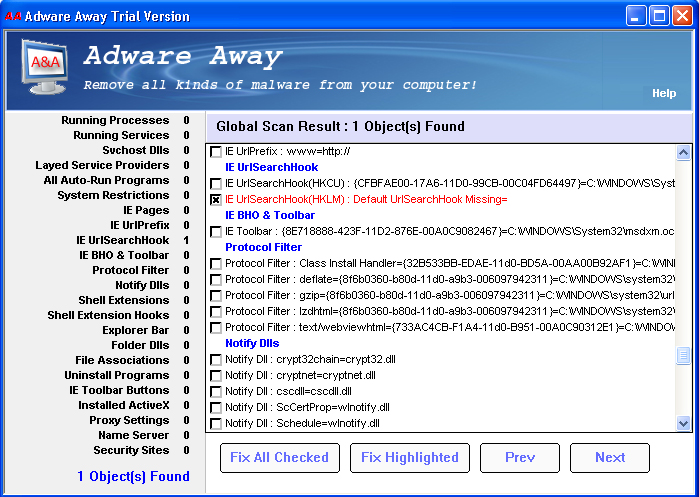 Adware Away manual removal:
Kill processes:
AdAway.exe
AdwareAway[1].exe
Unregister DLLs:
AdAway.dll
Delete files:
Adware Away.lnk
AdAway.exe
AdwareAway[1].exe
AdAway.dll
Delete directories:
%ProgramFiles%Adware Away
About the author