AKM Antivirus 2010 Pro. How to remove? (Uninstall guide)
AKM Antivirus 2010 Pro is a fake spyware remover which, just like initial Your PC Protector, is developed to trick the money out of unaware computer users. Distribution methods of AKM Antivirus 2010 Pro stay the same – malware gets into the target system through Trojans or fake online scanners. After this secret invasion, it trends to stop legitimate security software to protect itself from the elimination and then, upon each system launch, starts to mislead its victims. When removing, you will have to stop both AKM Antivirus 2010 Pro.exe and C:Program Filessvchost.exe processes because they will continue to launch this rogueware even the one of them is terminated.
Trying to sell its "full" version, AKMAntivirus2010Pro can be predetermined to report tons of infections detected. Similarly to any other rogueware, it imitates scanning of the system actions and then recommends installing its licensed version in order to remove viruses from the PC. Some of these alerts from Windows taskbar, that are supposed to scare PC users into purchasing AKM Antivirus 2010 Pro, read:
Warning: Infection is Detected
Windows has found spyware infection on your computer! Click here to update your Windows antivirus software
Internet attack attempt detected:
Somebody is trugin to attack your PC:
This can result in loss of personal information and infection other computers connected to your network.
Click here to prevent attack.
svchost.exe has encountered a problem and needs to close. We are sorry for the inconvenience.
If you were in the middle of something, the information you were working on might be lost.
Please tell Microsoft about this problem.
We have created an error report that you can send to us. We will treat this report as confidential and anonymous.
The trick is that all these problems encountered by AKM Antivirus 2010 Pro are false and have nothing common with a real state of your computer. Only AKM Antivirus 2010 Pro removal from the system can help you to save your computer and begin using it properly again. If not removed on time or even purchased, rogue anti-spyware will deteriorate PC performance and affect such critical computer issues as its resistance to outer threats and internet connection quality. Remove AKM Antivirus 2010 Pro because it can be surely called unwanted utility.
Additional information:
When removing AKM Antivirus 2010 Pro, you may find yourself disabled from using various spyware removers. So, download STOPzilla anti-spyware to another (not infected) PC and update its database. Additionally, put the whole folder to the your USB key, rename its executable file and then after putting into the infected PC your USB key, run a full system scan.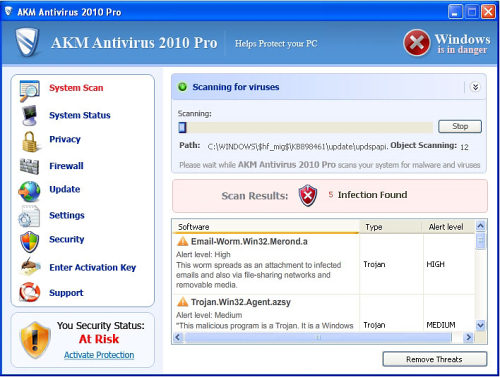 AKM Antivirus 2010 Pro manual removal:
Kill processes:
AKM Antivirus 2010 Pro.exe
alggui.exe
svchost.exe
wpp.exe
Delete registry values:
HKEY_CURRENT_USERSoftwareAKM Antivirus 2010 Pro
HKEY_CLASSES_ROOTCLSID{77DC0Baa-3235-4ba9-8BE8-aa9EB678FA02}
HKEY_LOCAL_MACHINESOFTWAREMicrosoftWindowsCurrentVersionExplorerBrowser Helper Objects{77DC0Baa-3235-4ba9-8BE8-aa9EB678FA02}
HKEY_LOCAL_MACHINESYSTEMCurrentControlSetServicesAdbUpd
Unregister DLLs:
adc32.dll
Delete files:
adc32.dll
alggui.exe
nuar.old
skynet.dat
svchost.exe
wp3.dat
wp4.dat
wpp.exe
AKM Antivirus 2010 Pro.exe
win1.tmp
win2.tmp
AKM Antivirus 2010 Pro.lnk
Delete directories:
C:Program FilesAKM Antivirus 2010 Pro
About the author