Anonymous Ukash Virus. How to remove? (Uninstall guide)
Anonymous Ukash Virus is a ransomware threat, which belongs to a huge group of viruses that all share identical tactic while trying to swindle the money from PC users. Basically, this group of threats has been relying on a fake pop-up warning message, which has always looked like a warning sent by some official authority, such as Federal Bureau of Investigation, Law Enforcement Agency or local Police Office. This alert has been reporting about law violations and e-crimes that have been allegedly found on victim's PC. However, now it seems that scammers have used some creativity and renewed their tactics: Anonymous Ukash Virus presents itself as a warning displayed by a group of hackers who claim that they will remove all victim's data from computer if he/she won't pay 100 pounds for them. This fine lets us guess that this ransomware is now spread in the United Kingdom. However, there is a huge chance that it will reach entire Europe and United States of America.
HOW CAN I GET INFECTED WITH Anonymous Ukash Virus?
Anonymous Ukash Virus is distributed by Trojan infection, which hides inside spam email attachments, freeware, shareware and similar files. As soon as it gets inside, this Trojan blocks the entire system and replaces your normal screen with its warning. Under no circumstances you should believe this Anonymous Virus pop-up! The one reason why scammers have invented it is to make you pay £100 as a fine to unlock the computer. However, this won't unlock your computer…
Here's this dangerous pop-up message that belongs to Anonymous Ukash Virus:
We are Anonymous. We are Legion. We do not forgive. We do not forget. Expect us.
Tango down!
Your computer has been hacked by the Anonymous Hackers Group and locked for the moment. All files have been encrypted. You need to pay a ransom of £100 within 24 hours to restore the computer back to normal. If the ransom is not paid on time all the contents of your computer will be deleted and all your personal information such as your name, address, D.O.B., etc. will be published online, after this has been done the process, ram and motherboard will be fried.
Any attempts to remove this virus will result in the consequences mentioned..
Pay attention to these words, because it's a clear sign that you are dangerously infected. As we have already reported, paying the ransom won't help you to unlock your computer. The one and only way to do that is to remove Anonymous Virus and its infected files.
HOW CAN I REMOVE Anonymous Ukash Virus?
When trying to remove Anonymous Ukash virus, the most serious problem is that you are blocked from getting on the Internet. In order to unblock the system, follow these options:
* Flash drive method:
1. Take another machine and use it to download Malwarebytes MalwarebytesCombo Cleaner, Reimage or other reputable anti-malware program.
2. Update the program and put into the USB drive or simple CD.
3. In the meanwhile, reboot your infected machine to Safe Mode with command prompt and stick USB drive in it.
4. Reboot computer infected with Ukash virus once more and run a full system scan.
* Users infected with Ukash viruses are allowed to access other accounts on their Windows systems. If one of such accounts has administrator rights, you should be capable to launch anti-malware program.
* Try to deny the Flash to make your ransomware stop function as intended. In order to disable the Flash, go to Macromedia support and select 'Deny': http://www.macromedia.com/support/documentation/en/flashplayer/help/help09.html. After doing that, run a full system scan with anti-malware program.
* Manual Ukash virus removal (special skills needed!):
Reboot you infected PC to 'Safe mode with command prompt' to disable Ukash virus (this should be working with all versions of this threat)
Run Regedit
Search for WinLogon Entries and write down all the files that are not explorer.exe or blank. Replace them with explorer.exe.
Search the registry for these files you have written down and delete the registry keys referencing the files.
Reboot and run a full system scan with updated Malwarebytes MalwarebytesCombo Cleaner or Reimage to remove remaining virus files.
Alternative Software
Different security software includes different virus database. If you didn't succeed in finding malware with Reimage, try running alternative scan with Malwarebytes.
Alternative Software
Different security software includes different virus database. If you didn't succeed in finding malware with Reimage, try running alternative scan with Combo Cleaner.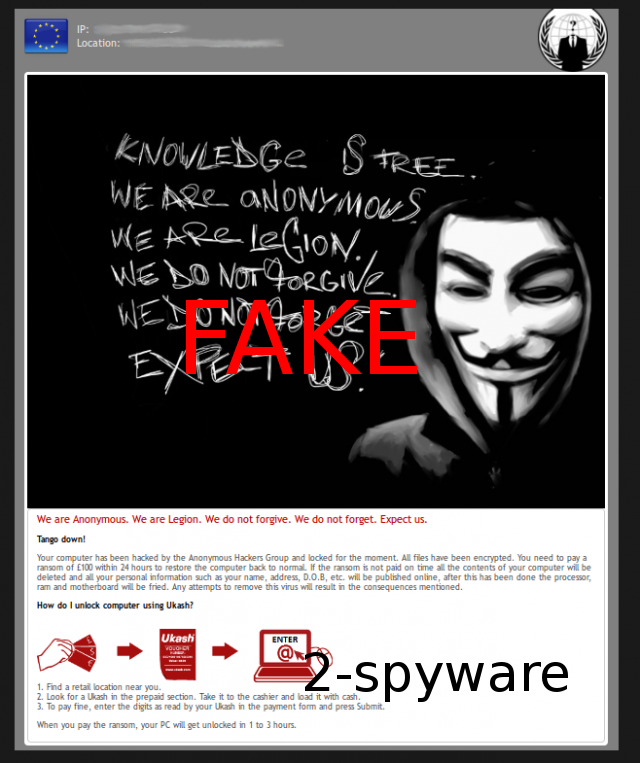 About the author