Antimalware virus. How to remove? (Uninstall guide)
Antimalware virus is a misleading program, which should be treated with carefulness. The main reason, why we recommend this, is that it's one of these programs that infiltrate computers through security vulnerabilities found and then start working on convincing PC users that their PCs are infected. In reality, it's only a way how they steal the money from them. In reality, Antimalware has an empty virus database and has no ability to detect viruses. You should never pay for its licensed version as well because it also has no ability to remove viruses from the system. When it comes to infiltration, Antimalware virus relies on trojan horse. It also modifies some of system's parameters and downloads malicious files that belong to this rogue. If you see them, you must ignore these ads because they are fake and useless. In addition, remove Antimalware virus from your computer without any delay.
HOW CAN ANTIMALWARE VIRUS INFECT MY COMPUTER?
As it was mentioned, Antimalware virus is spread by trojans that can infiltrate almost every computer which is poorly protected. For avoiding it, you should pay more attention to your anti-virus and anti-malware, and make sure that they are updated to their latest versions. Nevertheless, if Antimalware manages to attack the system, it starts working on its main activity – it seeks to make people think that they are dangerously infected and that they need to purchase licensed Antimalware's version, which is called 'Proven Antivirus Protection'. For that, Antimalware virus displays such and similar warnings:
Windows Security Alert
Virus Alert
Application can't be started!
The file chrome.exe is damaged.
Do you want to activate your antivirus software now?
Antimalware Alert
Infiltration Alert
Your computer is be attacked by an internet virus. It could be password-stealing attack, a trojan-dropper or similar.
Internet Explorer Warning – Visiting this web site may harm your computer!
Most likely causes:
The website contains exploits that can launch a malicious code on your computer.Suspicious network activity detectedThere might be an active spyware running on your computer
Please, ignore these ads because you will lose your money! If you want to get rid of them, follow a guide below. We don't recommend leaving this program on your computer because it may cause system slow downs, browser redirections and the loss of the sensitive information, such as loggins and passwords.
HOW TO REMOVE ANTIMALWARE VIRUS?
For eliminating Antimalware virus from computer, you should immediately scan your computer with Malwarebytes MalwarebytesCombo Cleaner or Reimage. If you can't run any of them, try to reboot your machine to Safe Mode with Networking and then stop malicious processes that belong to this rogue. Look for [random letters or/and numbers].exe or shl.exe processes. After killing these files and scanning computer on Safe Mode, don't forget to scan it after rebooting to normal mode. This will help you to make sure that this virus is gone!
You can also follow this guide for Antimalware virus removal:
1. Reboot your computer to Safe Mode with Networking. Just reboot your PC and, as soon as it starts booting up, start pressing F8 repeatedly.
2. Loggin as the same user as you were in normal Windows mode
3. Now click on IE or other browser and select 'Run As' or 'Run As administrator', enter your Administrator account password (if needed).
4. Enter this link to your address bar: https://www.2-spyware.com/download/hunter.exe and download a program on your desktop.
5. Launch it to kill the malicious processes of Antimalware virus and remove its files.
Alternative Software
Different security software includes different virus database. If you didn't succeed in finding malware with Reimage, try running alternative scan with Malwarebytes.
Alternative Software
Different security software includes different virus database. If you didn't succeed in finding malware with Reimage, try running alternative scan with Combo Cleaner.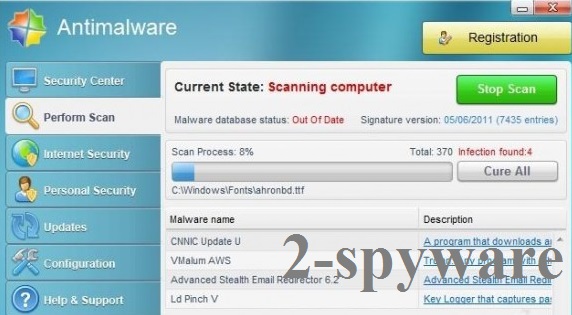 About the author
Removal guides in other languages