Antivir 2010. How to remove? (Uninstall guide)
Antivir 2010 is a freshly released rogue anti-spyware which is closely related to Alpha Antivirus and Antivir. Just like its relative applications, Antivir2010 uses fake online scanners and fraudulent social engineering for the distribution. After showing up for the user from nowhere, Antivir 2010 starts malicious tactics pushing its victims into making a purchase of so called "licensed" version. It triggers numerous deceptive pop up ads and reports a huge number of imaginary threats expecting you to become scared. Don't fall into its trap and don't take any of its messages serious! Similarly to fake system scanners, all the notifications from Antivir 2010 should be ignored and the same malware eliminated from the system.
Antivir 2010, also classified as Fast Flux fake anti-virus, as soon as it is installed into the system starts making havoc there. This rogueware uses Trojans' help to come without being noticed by any security software and firstly after coming into the machine adds registry entries of its own. Antivir 2010 also changes the files under System32 directory and forces infected computer to run malicious executables of its own. This malicious activity realized by Antivir2010 is additionally led by enormous number of falsified virus scanners. All the warnings generated by this program announce that computer has multiple problems, such as malware, spyware, trojans, keyloggers and etc. Finally, PC users are suggested you to remove these suspicious files found because otherwise they will "continue unprotected".
As these reports loaded by Antivir 2010 sound quite scary, so there is no surprise that hundreds of PC users have been fooled into making a purchase of the scam. However, the only truth is that they all are safe files, sometimes even legitimate ones, so their removal can even make things worse. It is highly recommended acting in the opposite way and removing the same Antivir 2010 because it's the only problem on your PC. Use the removal guide written below and delete Antivir 2010.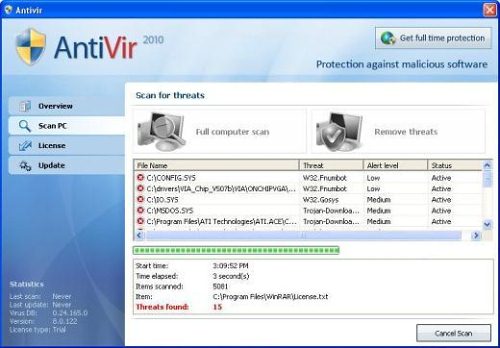 Antivir 2010 manual removal:
Kill processes:
antivir2010.exe
Unregister DLLs:
UpdateCheck.dll
Delete files:
Antivir 2010.lnk
Uninstall.lnk
antivir2010.exe
Uninstall.lnk
UpdateCheck.dll
Antivir 2010.lnk
Delete directories:
%Documents and Settings%All UsersStart MenuAV
%Program Files%AV
%Program Files%Common FilesUninstall
About the author