Antivirus PC 2009. How to remove? (Uninstall guide)
Antivirus PC 2009 is a fake anti-virus application. Please read more about this malicious software and how to remove it from your computer manually for free or with an automatic removal tool. The rogue application enters a computer with the help of Trojan virus known as Trojan.Win32.Rozena.xi [Kaspersky Lab]. Usually, this Trojan comes from fake online anti-malware scanners or other fake websites. Then it downloads other files from Internet and installs AntivirusPC2009. Once installed, Antivirus PC 2009 will create several harmless files on your computer and later detect those files as system security threats or serious infections. The misleading application will be configured to start automatically when Windows starts. When running, it will imitate a system scan and report premeditated and obviously false scan results. AntivirusPC 2009 uses ClamAV virus database, so the names of the reported infections will likely be real. However, that doesn't mean that your computer is actually infected. It's just a trick used to make this whole scam more persuasive.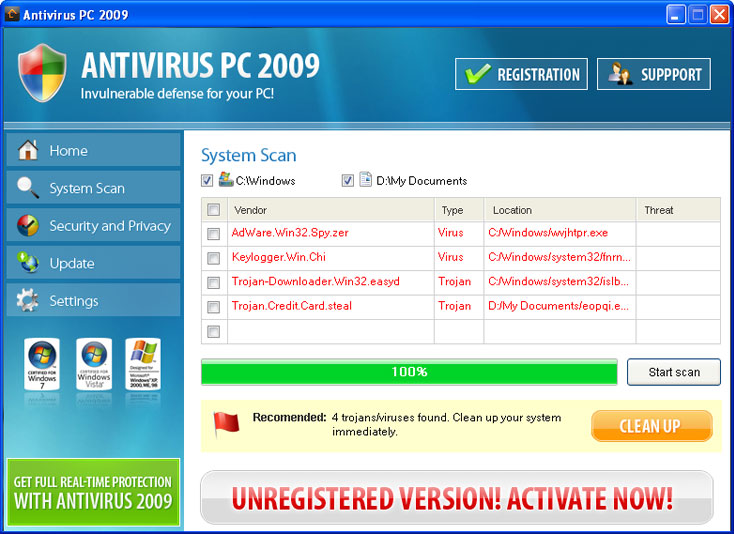 [Figure 1. Antivirus PC 2009 graphical user interface]
Furthermore, Antivirus PC 2009 will display fake security alerts stating that your computer is infected with Trojans. The best part is that this malware reports the same infections on every compromised computer. This fake security alert states:
ANTIVRUS PC 2009
Warning!
Your system is infected
Trojan-Downloader.Win32.easyd
AdWare.Win32.Spy.zer
Keylogger.Win.Chi
Trojan.CreditCard.steal
Exploit.Internet-Explorer.Z78
Websites that distribute this fake security program are:
antiviruspc-update .com
antiviruspc2009. com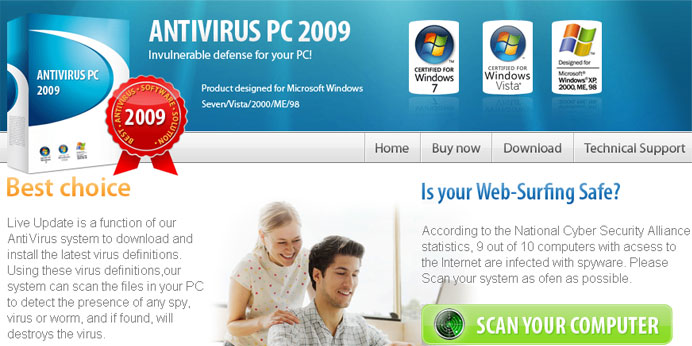 [Figure 2. Antiviruspc2009. com]
If find that your computer is infected with Antivirus PC 2009 virus, please use the removal guide below to remove this infection manually for free or download an automatic removal tool. If you can't download or install it, please end the AntivirusPC2009 process first. Most importantly, do not purchase it. If you have already done that, contact your credit card company and dispute the charges.
Antivirus PC 2009 manual removal:
Kill processes:
avpc2009.exe
avpc2009s.exe
eopqi.exe
fnrnspc.exe
islbk.exe
wvjhtpr.exe
xvgke.exe
Uninstaller.exe
Delete registry values:
HKEY_LOCAL_MACHINESOFTWAREMicrosoftWindowsCurrentVersionUninstallAntivirus PC 2009
HKEY_LOCAL_MACHINESOFTWAREAVPC2009
HKEY_LOCAL_MACHINESOFTWAREAVPC2009options
HKEY_CURRENT_USERSoftwareMicrosoftWindows Script Host
HKEY_CURRENT_USERSoftwareMicrosoftWindows Script HostSettings
HKEY_LOCAL_MACHINESOFTWAREMicrosoftWindowsCurrentVersionRun
HKEY_LOCAL_MACHINESOFTWAREMicrosoftWindowsCurrentVersionUninstallAntivirus PC 2009
HKEY_LOCAL_MACHINESOFTWAREAVPC2009options
Unregister DLLs:
bzip2.dll
libltdl3.dll
pthreadVC2.dll
Delete files:
avpc2009.exe
avpc2009s.exe
eopqi.exe
fnrnspc.exe
xvgke.exe
islbk.exe
Uninstaller.exe
bzip2.dll
libltdl3.dll
pthreadVC2.dll
daily.cvd
Antivirus PC 2009.lnk
2.vbs
self.hdb
Delete directories:
C:Program FilesAntivirus PC 2009
C:Program FilesAntivirus PC 2009data
C:Program FilesAntivirus PC 2009quarantine
About the author